Thanks for signing up for our "How to Know if Copywriting is Right for You" ebook—it's on its way to your inbox.
But while you're here, I have a special offer for you—and it's actually the perfect way to jumpstart your learning.
One of the hardest things to figure out when you're a new copywriter is exactly how much to charge.
And not even just how much to charge,
but how to charge (by the word? hour? project?)…
how to figure out your prices for work…
how to negotiate with clients…
how to deal with slow-paying clients…
and how to avoid some typical new copywriter mistakes.
All of that (and more) is covered in our How to Price Your Services deep-dive course.
(And, heck, all of this is useful even if you don't decide to become a copywriter. Want to freelance at anything? This is what you need to know.)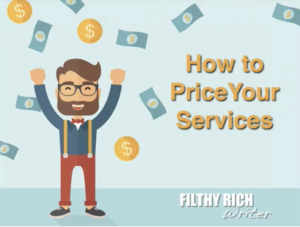 This How to Price Your Services deep-dive course is worth $125.
But that's if you could buy it on its own.
Which you can't.
Well…except for today.
As a thank you for signing up, we're making it available to you—today only—at a deeply discounted price.
Oh, and we're throwing something more in, too:
We work extremely hard to make sure all of our articles are useful and actionable for new and aspiring copywriters.
But there are more than 200 of them! And that makes it hard for you to find and consume all of the best articles on our site…So, we complied them into one, easy-to-read book!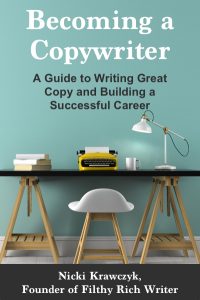 * Ever wondered you don't get responses to your job applications? Chances are, you're making one of four common (and career-killing) mistakes.
* Can't figure out how to set yourself apart from your competition for copywriting gigs? You need to incorporate one almost-always-overlooked element in your resume, cover letter, and portfolio site.
* Want to work with recruiters? You need to know the benefits—and the dangers—of doing it.
And these are just the tip of the iceberg!
Get immediate access to 200+ articles, jam-packed full of actionable tools, tips, and lessons you won't find assembled in any other book across 400+ pages. Plus, you'll get all of this in PDF, .mobi for Kindle, and .epub for Nook formats.
Normally, our ebook costs $5.99.
But we're throwing it into this bundle for free.
So…what does this all come down to?
This bundle includes our How to Price Your Services deep-dive course—worth $125
(and, after today, completely unavailable to purchase on its own…)
Plus our Becoming a Copywriter ebook, worth $5.99, but thrown in for free…
Today only…for just $19.
But don't delay—this offer truly only lasts one day and you will not see it again. Scout's honor. Take advantage of it now!