Thanks for signing up! You've got a ton of bonuses and resources heading your way, so be sure to check your inbox.
But if you're ready to dive in just about a half-second sooner, here are some great places to start:
What Does a Copywriter Actually Do?
Why Job Sites Will Cost You Big Time
Building Your Copywriting Business While Working Full-Time
What Copywriting Will Look Like in 10 Years 
5 Reasons You're Not Getting Called Back for Jobs
And, of course, there's a ton more. More than 250 more posts, in fact! And that makes it hard for you to find and consume all of the best articles on our site…So, we compiled them into one, easy-to-read book.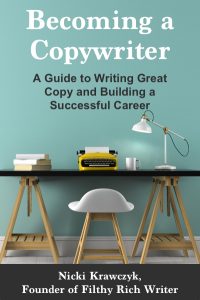 You can get immediate access to 200+ articles, jam-packed full of actionable tools, tips, and lessons you won't find assembled in any other book across 400+ pages. Plus, you'll get all of this in PDF, .mobi for Kindle, and .epub for Nook formats.
Our ebook costs $5.99, but as a thank you for joining our email list, use code IMAWINNER to save $4 on the ebook—and pay just $1.99.
Thanks again—and welcome!!