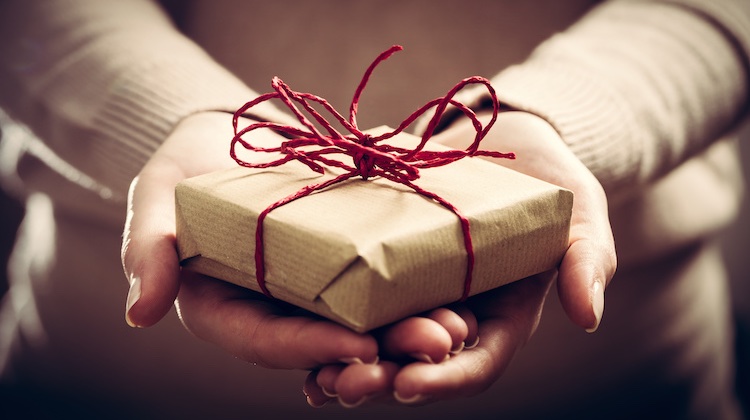 'Tis the season of giving … and giving ourselves a little something for moving our business forward this year. For this year's Copywriter Gift Guide, the entire Filthy Rich Writer team has given their suggestions for office must-haves, can't-miss books, and more.
If you're looking for a gift for the copywriter in your life, we know you'll find something they'll love. And if you're looking to treat yourself, we hope you find something that helps you move your business forward (yes, self care helps move business forward!).
Self Care Gifts
Self care is important to our team. We work hard, but we also know we need to take care of ourselves in order to do our best work. Here are just a few of the items our team stands by that help us avoid burnout.
Neck Massager
"This is one of those purchases that seems kind of frivolous at first, but I've found that sitting in front of my computer for hours does terrible things to my upper back and neck. And while I'm also a big proponent of massages, I can't find the time to go as regularly as I like and this is a lifesaver in between appointments!" — Nicki Krawczyk, Founder
Footrest
"I use this footrest everyday. This item really helps throughout the work day and it's also an awesome texture!" — Taylor Mason, Marketing Assistant
A Tumbler for Hot and Cold Beverages
"I know that I'm late to the party on this one, but now I *finally* get it. These things are life-changing. You know that moment when you go back to your coffee hours later and you're disappointed because it's ice cold and now you have to go make another one (only to forget to finish it again)? Now, you go back hours later and it's STILL HOT. (I will just never get over this.)" — Nicki
"According to Runner's World magazine, when you drink out of a straw you are more likely to take down more ounces than you would if you were just sipping. Plus, a pretty cup makes it even more fun! And these tumblers keep you drink cold FOR-EV-ER. Stay hydrated!" — Tracy Yothsackda, Business Assistant
Copywriter-Approved Planners
Like most writers, we love a good planner. You can make your own for (virtually) free, but if you're one of those people who is motivated by nice stationery (welcome to the club), check out our team's favorites.
"I love this planner more than a typical calendar based planner because you pick the date so you don't need to make a new to-do list every day. Sometimes I use it for a couple days and add/cross off throughout the week.
"One side is broken up into categories to prioritize your to-do list and the other side is a bullet journal to use for whatever notes you need. I am a big list maker and love to prioritize my tasks but I wanted one notebook where I could write all of my tasks and stay organized and this was perfect!" — Meaghan Lynch, Marketing Assistant
"I love goals and I love planners and I love crossing stuff off of lists. I also love great design and these planners from Page Eleven Paper Goods combine aaaaaall of that. Just *try* not to fill your cart with all of their notepads and planners." — Nicki
"I just finished filling the last page in one of my Moleskine notebooks and I swore that was it, but … there's something about pen and paper. I find it especially helpful when jotting important notes during client calls. I love the hardcover version of these (it holds up a bit better when traveling) and that they come in so many colors. I'm thinking the lemon yellow color may be next … — Kate Sitarz, Marketing Manager
Copywriter Office Essentials
You know what we say: there's really one cost to starting a copywriting business (your online portfolio). But there are a few things that you may want to consider investing in as you start to get more clients.
Coffee-Shop Worthy Coffee Maker
"I'm not one that likes working from a coffee shop, so I brought the coffee shop to my home office. I make lattes with this espresso machine and a milk frother—yum!" — Kaitlyn Spinney, Business Operations Manager
"Like Kaitlyn, I invested in a real swanky coffee machine for my home office (hello, tax write-off). It was definitely pricey, but I did the math: at $3.50 per cup of coffee at the local coffeeshop, this machine will pay for itself in less than half a year.
I'm more a set-it-and-forget-it type, so I love that this one makes a pot of coffee before I even get into the office for the day." — Kate
Good Lighting for Video Calls
"Look your best while on your Zoom calls and virtual interviews with the help of a ring light!" "I'm currently reading this book, and I love that it's so inspiring and helpful. It talks about how the key to succeeding is through passion and perseverance." — Tracy
A Stick-Note Alternative
"In my effort to use less sticky notes this year, I bought this and really love it! The board is easy to write on and clean too." — Kaitlyn
Must-Read Books for Copywriters
You know we love a good book recommendation (if you're not on our email list, make sure you get on it to read along with our monthly book recommendation!). Here are just a few recent books our team has enjoyed.
The Bravest You: The One Essential Combination That Will Get You More of What You Want from Your Business
"This was our book recommendation in May, and even if you haven't faced self doubt in awhile, the actionable steps for overcoming common fears (inadequacy, uncertainty, fear of failure, etc) offer fantastic reminders. If you have faced fears this year like inadequacy, uncertainty, or fear of failure, among others, then you'll definitely want to pick up a copy. It'll give you the steps you need to move forward when you encounter these common mental roadblocks." — Kate
The High Five Habit: Take Control of Your Life with One Simple Habit
"This book was the most recent pick for our surprise book giveaway for CCA students. It's a quick read, but Mel Robbins gives practical, easy tips for flipping self-doubt on its head so you can stop overanalyzing and take more action." — Nicki


Rocket Fuel: The One Essential Combination That Will Get You More of What You Want from Your Business
"This book will make you see your clients, coworkers, and bosses (previous, current, and future) differently. I read this book thinking about working with my freelance clients and boss, and took a lot away from it." — Kaitlyn
If you're treating yourself to one of these gifts, remember to ask your CPA or accounting expert whether you can deduct any of your office-specific purchases on your taxes! It's like a gift that keeps on giving.
Your Turn! What are some of the must-have items on your list this year? Tell us in the comments below!
Note: This post contains affiliate links.
Last Updated on May 12, 2022 by Nick Olds