Becoming a Copywriter Ebook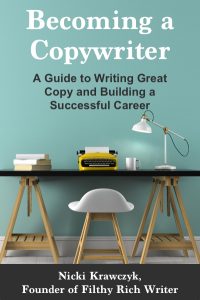 Get 200+ of our best articles and resources compiled into 400+ pages in all three e-reader formats (PDF, .mobi for your Kindle, and .epub for your Nook) for one low price. We've worked hard to make all of our articles jam-packed with insightful, actionable information, and now we've put it all together in one convenient resource!
Comprehensive Copywriting Academy
Our raved-about, self-paced Comprehensive Copywriting Academy offers you everything you need to learn both the fundamentals and advanced tactics of writing copy—plus how to build your experience, how to build a portfolio, and how to find clients and/or jobs. Whether you want to write copy full-time, freelance, or as a side hustle, this is where you need to be.