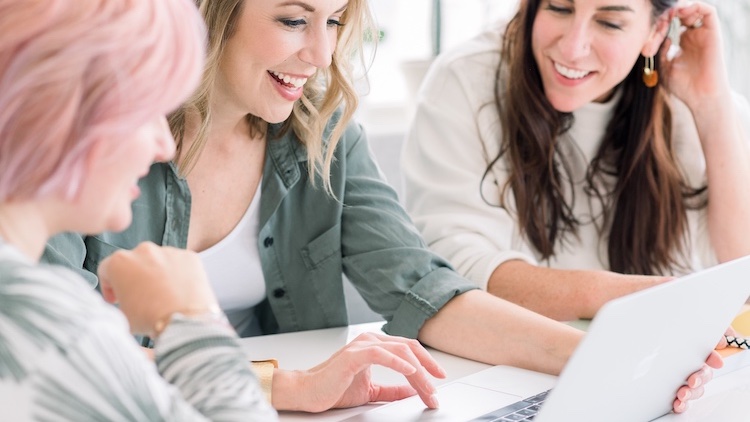 Filthy Rich Writer is an online resource for new and aspiring copywriters, dedicated to providing tips, tools and training to help people create the careers of their dreams. We are deeply and fundamentally opposed to gimmicks or get-rich-quick schemes; this is about real career training for real career success.
Our Founder, Nicki Krawczyk
Nicki Krawczyk has been a copywriter for more than 20 years: freelance, on-staff, for agencies, for in-house teams, for herself as a full-time freelancer making six figures, and as a Copy Director. She's worked for and with clients including TripAdvisor, Marshalls, Hasbro, Keurig, adidas and, yes, even Harlequin Romance novels.
Since 2012, she's helped more than 7,000 students take control of their careers, their incomes, and their lifestyles through Filthy Rich Writer and its signature course, the Comprehensive Copywriting Academy.
Meet the Filthy Rich Writer Team
Marketing, branding, business development, technology, customer service: There's nothing our talented team can't handle.
As a student of the Comprehensive Copywriting Academy, you get access to our entire team of experts, who will provide the support, help, and resources you need to build a thriving copywriting career the way you want, whether that's full-time, part-time, inside an ad agency, 100% work-from-home remote freelance, or a mixture of them all!
About the Comprehensive Copywriting Academy
You don't need a copywriting certificate or degree to become a copywriter (anyone telling you otherwise truly hasn't worked in this business!). You do however need training. You need to know how to write copy for clients! (And find those clients, whether freelance or on staff!)
The Comprehensive Copywriting Academy includes everything you need to learn how to write copy, as well as how to stand out from other copywriters (trust us, there's plenty of work to go around!), create an online portfolio, find and land clients, and more!
It's everything Nicki has learned over 20+ years working in the business, not just as a six-figure freelancer, but also working as a contractor, an on-staff freelancer for multi-billion dollar companies, within ad agencies, and as a Copy Director. So, no matter what YOU want your career to look like, Nicki and our team of copywriting and marketing pros can help you get there, whether it's writing from a beach in Bali, working from your kitchen table, or thriving on staff with a company.
There are so many ways to build a thriving copywriting career (as many ways as there are copywriters!). Our system ensures you can choose what works best for you, even as what's best for you changes and evolves.
Meet the CCA Copy Coaches
When you join the CCA, you get the support from Nicki, our head copy coach Kate, and our fabulous team of coaches who have been in your shoes!
Nicki's personally trained all of the coaches, so you can be sure you're getting the highest level of support. (And that's especially great because Nicki's only one person with one person's time!) That ensures you get the support you need, when you need it with two coaching calls a month, plus portfolio reviews, and more.


Our Story
A Note From Nicki
(A note from Nicki)
When I started out, I bought a lot of books about copywriting. Or, at least, they were supposed to be about copywriting. Those books told me how to set up an invoice. How to deduct mileage. How to buy a fax machine. But they didn't tell me how to write copy. As the French say, 'Quelle waste of cash.' (It's why I jumped at the chance to write an actual book about copywriting, Copywriting Strategies: A No-Nonsense Guide to Writing Persuasive Copy for Your Business).
So, that's why I started Filthy Rich Writer. Everything I know, everything I had to learn through sweat and tears, I'm passing on to you. The information I'm giving you is the same information I've used to train writers who've worked for me. And, boy, have they gotten good. Even if you know absolutely nothing about copywriting, advertising or marketing, I'm going to give you all of the tools, tips, and skills you need for your successful career.
Why? Because there are a few simple things I live by:
There need to be more good copywriters in the world (there are a lot of bad ones)
People should be able to make a ton of money at writing
A whole lotta skill and a little bit of talent can get you anywhere
Good writers help each other
Believe me: there's plenty of room for us all to succeed. And more of us need to feel how amazing it is to make a good living—a great living—as a writer.