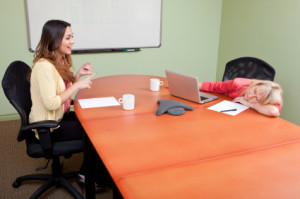 You applied for the job, you got the call to come in…but you're not home free yet. Sadly, there are six commonly made mistakes that completely derail an interview. Read on to be sure you don't incorporate these in your interview techniques…
Today's question comes from Maya R., who asks "How can I be sure not to tank my interview? I really want this job!"
Well, aside from having a great portfolio and a great understanding of how to write effective copy, there are a few other very important things to keep in mind. Let's have a little fun and look at this from the other side: It can be very easy to have an awful interview end your chances with a company…so let's see how you could do it.
Here are the top six ways to mess up an interview:
1. Don't be personable. Just as your work is being evaluated, you are being evaluated. Your interviewer wants to see if you'll be a good fit with the team. So, if you really want to tank your interview: clam up. Don't smile. Don't joke. Don't talk about things you're passionate about. After all, no one wants to work with someone who's quiet and boring, right? Dumb down your personality and friendliness and you'll be sure to get passed over.
2. Don't do your homework. Preparation? Bah! The people you're interviewing with want to know your insights based on what you've seen of their company. So, to really tick them off, don't do any research on the company at all. Don't dig deep into their website, don't look them up in industry publications, don't follow them on Facebook, LinkedIn and Twitter and don't Google them to see what comes up. Staring blankly when they ask, "What do you know about our company?" might just end your interview early!
3. Don't make associations. They've already at least glanced at your online portfolio, but your prospective employer wants to know how you relate the work that you've done already with the work that they do. Want to completely derail the interview? Show them work that doesn't relate at all to what they do, and then don't make associations between the work they've you've done and their work. That'll show 'em!

4. Don't have a plan. Strategy? That's for copywriters who want work! The best interviewees will come in with three key points about themselves, their work and their desired career direction to convey to their interviewer. They'll have a plan about how they'll convey their USP. But to really make your interviewer work—and probably even regret calling you at all—don't volunteer any information about yourself or the benefits of hiring you. And when they ask questions, answer in one or two words, max.
5. Don't relax. An interview isn't one-sided; it's just as much for you to figure out if you want to work there as it is for them to figure out if they want to hire you. But if you're looking to mess up royally, forget that it's a conversation. Get tense and sweaty and frightened every time they ask you a question. Bonus points if you burst into tears.
6. Don't ask questions. Who's got the energy to think before or during a conversation? An interview should be an open dialogue, so be sure to shut that down immediately. Don't ask questions throughout the meeting and then, at the end when they ask if you have any questions, say, "Mmm…nope." Tell them you know everything you need to know because their company couldn't possibly be more interesting or complicated than can be completely understood in 20 minutes. More information about the company? You don't wanna know!
Ah, ask you can see, anyone who incorporated any of these into their interview techniques would become the A-Number 1 super-champ of Not Getting the Job. And if that's your goal, good for you!
If it's not, though, I have just one more tip—and it's a tip to help you get the job of your dreams:
Often interviewers won't call references until they're about to make a job offer. But your references might help to actually sway the decision in your favor. So don't wait to provide your references, and don't just hand over names and phone numbers. At the beginning of the interview, give your prospective employer an envelope with written references from one or two people who highly praise you. If possible, try to have these people write them out to be applicable to the job you're interviewing for.
No interviewer is going to be able to resist opening the envelope after you leave, and the glowing praise will leave them with a good feeling about you after your interview is over. This "testimonial envelope" makes sure your interview and their experience with you ends on a high note.
Your turn! What interview techniques have (or haven't) worked for you? Let us know in the comments below!
Last Updated on August 27, 2014 by Nicki Krawczyk