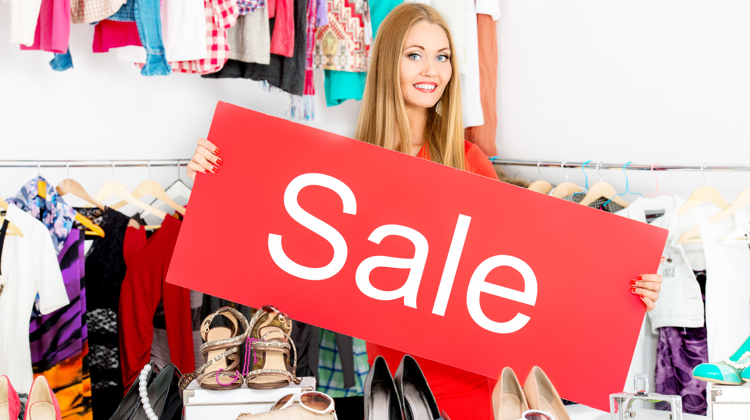 It seems like every company runs sales—and, presumably, sales help them make more money! Hey, maybe you should offer sales and discounts, too! Turns out, it's not quite as easy as that for a service provider. Here's what you need to know:
Today's question comes from Mya S., who asks, "I want to jumpstart my freelance business. Do you think offering a discount or limited-time 'sale' is a good idea?"
I definitely understand the desire to jumpstart your business, and looking to other industries for marketing ideas is a good plan. However…I'm going to caution you on this particular one.
You see sales with a lot of businesses that sell products (Macy's, for example), or with large businesses that offer services provided by multiple people (like H&R Block tax preparation).
They offer discounts because they want to entice more people to purchase. And they're able to offer discounts because they're banking on the number of increased sales to help offset the cost to them of the discounts they offer.
And that works for them because they have a markup on everything they offer. Product-selling companies sell those products for more than it takes them to make or purchase. Large service companies sell those services for more than what they pay the service providers.
(And that's how they make a profit, right? Good for them.)
But when it comes to your own services, you don't really have a "markup" on your hours. Your rate is your rate. So when you offer a discount, you're actually cutting into your own earnings.
More importantly (and concerningly) though, is that offering a discount implies that there isn't a solid value behind your regular rates.
When you offer a discount once, the implication is that you can offer a discount at any time.
Think about it: If you're willing to work for $25 an hour instead of $50 an hour once, the implication that the real worth of your work is $25 per hour and that extra $25 was just a markup.
And if they can get a discount once—if they know a discount is possible—why would a client ever pay your full rate?
When you discount your rate, you devalue the service you offer. You're literally implying that your copywriting services are cut-rate.
Your rates and your work are important and they deserve respect. As such, I would strongly recommend that you avoid offering discounts to drum up business.
That said, though, you can certainly get creative and come up with all kinds of non-discount related promotions. You could offer free, 15-minute copy evaluations, you could run a sweepstakes, you could run a webinar, you could partner up with a designer to offer a ready-made package.
Don't make discounts your focus—it's very likely that you'll regret it in the long-run. Once you start thinking about it (and looking around for inspiration) you'll find all kinds of ideas for promotions!
Your turn! What interesting promotions have you seen other service providers (one or two-person companies) do? Let us know in the comments below!