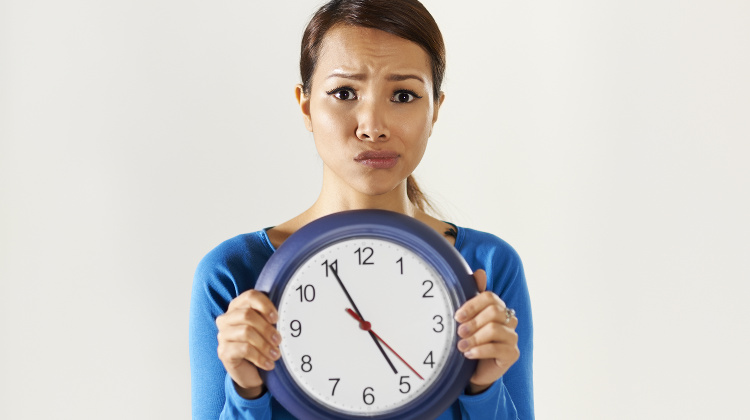 Many copywriters love deadlines since they certainly help us stay on track. But even those who love them often mix in a lot of hate with that adoration. Today, we're going to talk about taming the deadline devils and making them work for you. Read on…
Today's question comes from Melanie H., who asks, "I have a hard time with deadlines. I set a deadline with a client that seems reasonable, but then I end up putting it off and having to pull an all-nighter just to make it. Do you have any tips for how to get better at hitting deadlines without knocking myself out?"
Most creatives have a love/hate relationship with deadlines. We love them because, frankly, we'd never get anything done without them. But we also hate them because they can be stressful.
We love them because they force us to focus and get stuff done—and we hate them for the same reason.
But is there a way we can make peace with deadlines? Take the "evil" out of "necessary evil?"
Sure there is—we just need to change how we approach deadlines.
For most people, a deadline is a one-time thing. It's the date on which the project is due to be entirely complete. A deadline is an end-of-project date.
But relying on a single deadline to help pace you through a large project is like relying on a brick wall to stop your car. It'll work, but boy is it going to hurt.
So what do you do instead? You put in speed bumps.
You need to build in smaller deadlines to help pace yourself ahead of your big deadline. And, just as importantly, they need to be enforceable deadlines.
For example, many people promise themselves, "I will definitely, definitely have this done tomorrow" and then blow right through that deadline because there are no consequences.
If you're the kind of person who can truly stick with internal deadlines, then great. But if you're not, you need to create consequences by promising things to your client.
If you owe the entire copy for a site on May 1st, maybe you promise your client that you'll have the About us page done April 5, the home page done on, April 15th, the product page done on April 20th and the careers page done on May 1st.
You can't let your client down, so you'll hit these shorter/smaller deadlines. And hitting your smaller deadlines will keep you on track to hit your overall deadline. By the time your overall deadline comes up, you won't be struggling—you'll be sprinting over the finish line.
Your turn! What tactics do you use to keep your deadlines in check? Let us know in the comments below!