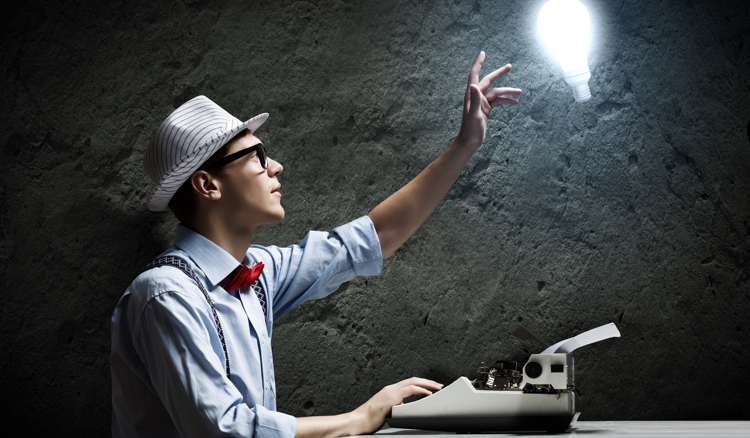 As you explore the field of copywriting, you likely know that a copywriter, well, writes. But, you're also probably thinking, "Yeah, but what does a copywriter do? What does that look like?"
Copywriting is one of the most flexible careers. You can work as a fully remote freelancer, a contractor who bops in and out of an office, or on-staff within a company or for an ad agency. (Post 2020, many on-staff jobs are now fully remote, too!).
But no matter how you decide to structure your career, there are some basic tasks that all copywriters do as part of their jobs!
The Basics of What Copywriters Do
From the widest point of view, copywriters write advertising and marketing pieces. Think: emails, websites, billboards, brochures you see in your doctor's office, posters at the bus stop, and cereal boxes (and really every other product packaging…). The list goes on and on. If there's words on it, someone had to write it!
The words copywriters write (their "copy") sell things to people; whether that be literal selling of products, convincing people to take an action, or persuading them to think of a product, company, or person in a certain light.
Now, when I use words like "selling" and "persuading," a lot of people develop a twitch and start throwing around terms like "selling their soul." They assume that copywriting involves conning people into buying things that they don't need. And that's absolutely, completely incorrect.
A copywriter's job, really, is to connect people who have a problem, a need, with that problem's solution. That's really the only effective sales formula. A copywriter uses words that a particular audience will relate to, to communicate a solution (be it a product or a service) to a problem.
Sure, some problems are certainly more critical than others. The copywriter who writes the billboard for an adoption center that helps a family find a child to love is doing a different kind of service to the world than the copywriter who writes a billboard for a gluten-free sandwich shop that helps someone with celiac disease find lunch—but that copywriter is still providing a service to the person who needs a sandwich.
Specific Copywriting Tasks
Writing is really only one piece of the copywriting puzzle! While there is some variation in how copywriters tackle a project from start to finish, there are several key items on every copywriter's to-do list at the start of a project:
Kickoff. This can be a meeting if you're in office, a phone call, or a video call. During the kickoff, you download all the information a client has to give you about a project. You ask questions.
Concepting. This is a crucial first step that untrained copywriters often skip. And clients can tell because the copy doesn't turn out great. Copywriting concepting may look like you're daydreaming out a window, but in your head, you're brainstorming the most effective angle for the project.
Outlining. This isn't your high-school-essay outline. Copywriters set up their copy doc with all the elements needed (for example, if you're writing an email, you'll have a section for the subject line and snippet). You may also start to include ideas you have for each element.
Writing. The writing process looks different for each copywriter. Some copywriters like to work linearly, starting with a headline and working down the page in the order of their copy doc. Or, more commonly, you may jump around. You may know exactly what your CTA is, so you write that. Then you have a great line you think makes sense somewhere in the body copy.
Editing. By editing, I don't mean copyediting (though you should have a clean copy doc as possible!). This is the part of the process where you start to rearrange copy on the page. Maybe you realize the first line of a body paragraph would actually make a really strong headline. Or you determine you don't need a subhead. You may do some additional writing during this phase as you refine your work. Think of it like a puzzle. You're trying to get every piece to fit just right (even though some pieces seem to fit multiple places!).
Sharing you copy. This can be intimidating the first time you send copy to a client, but it absolutely gets easier the more you do it! At this point, a copywriter will either have a creative review or send through copy (more common with repeat clients and smaller projects). This gives you to a chance to explain what copy choices you made and why you made them (as in, why they're the most effective approach to achieve the project's goals!).
Revisions. Even the best most seasoned copywriters get revisions. While you'll spend large chunks of your time on your own completing tasks, copywriting is, ultimately, a collaborative process. Clients may give comments in the copy doc or during the creative review or both. All of it is in the name of creating the best possible final product.

Why What Copywriters Do is So Important
First things first: if you've had any dreams of making your living as a writer, I'm guessing that someone squashed them pretty quickly. (Maybe even gleefully, that sadist.) Everyone thinks you can't make a living as a writer: from journalists to novelist to bloggers to screenwriters, the vast majority aren't making any kind of money.
But copywriting is one kind of writer that actually is making money. And this isn't some quirky, flash-in-the-pan, get-rich-quick kind of job, either. It's a real career.
That's because copywriting is really about using writing to connect people with what they want and/or need.
This skill allows businesses to stay in business! Think about it: if you don't know about a great car seat that keeps small children safe, you're not going to buy that car seat. It may be the best, safest car seat on the market. That doesn't matter if the company can't effectively communicate its message.
And, even customers do know about a company or product, typically they have lots of choices. Copywriters know how to make a product or service stand out from the competition.
How Do Copywriters Learn What to Do
Copywriting, just like any other career, requires training. Just like there are specific skills and techniques you need to learn to become a chef or a teacher, there are specific skills and techniques that someone must learn in order to become a successful copywriter. (One of the most common mistakes people make is assuming that because they know how to write, they'll be able to find jobs as copywriters. That's just not how it works.)
Creative Directors and clients want to hire copywriters who know how to write copy. They want to hire people who know all the tools and techniques of writing effective messages. Which makes sense, right? While I'm good at driving, that doesn't mean I can get work as a big rig trucker. I don't know how to do that, so no one's going to hire me to do it. I would need to get training.
Of course, it's hard to find that training. Most schools don't offer it and most of the courses you find, don't offer a thorough training that includes the techniques of writing, but also how to work with designers and project managers, how to get experience, how to build your portfolio and how to find work. So, that's why we created our own training. And the feedback we're getting (and the careers our students are building) show that the proof is in the pudding. Yay for success!
Copywriters get to do interesting, challenging, creative work and work with talented, dynamic people. A copywriter can work on-staff or as a contractor or a freelancer, and he/she can work for ad agencies, in-house agencies or individual clients. A day in the life of a copywriter looks slightly different for each of these.
As a freelancer, you're setting your schedule on your own hours. An on-staff copywriter may work remote or go into the office or a mix of both. All have their perks and, the best part is, you can move freely between freelance, on-staff, and contract jobs depending on what you want in any given phase of your life! Copywriting gives you the flexibility to adapt your career to your needs.
No career is perfect, of course, but it's thrilling to actually see your words in print or online. And I also suspect that it's one of the few jobs in which you're regularly really proud of what you do. On top of that, it's a job in which you can earn $70,000 $80,000, or even well over $100,000 per year. (So, that person who told you that you can't make money as a writer? Dead wrong.)
Interested in copywriting? Here are more resources:
Last Updated on August 18, 2022