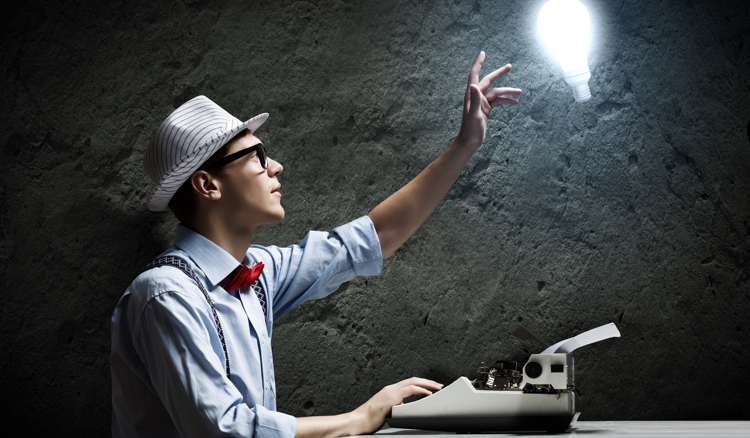 If you've had any dreams of making your living as a writer, I'm guessing that someone squashed them pretty quickly. (Maybe even gleefully, that sadist.) Everyone thinks you can't make a living as a writer: from journalists to novelist to bloggers to screenwriters, the vast majority aren't making any kind of money.
And that's true. But there's one kind of writer that actually is making money. And this isn't some quirky, flash-in-the-pan, get-rich-quick kind of job, either. It's a real career. And it's called copywriting. But what is it? Read on…
From the widest point of view, copywriters write advertising and marketing pieces. The words they write (their "copy") sell things to people; whether that be literal selling of products, convincing people to take an action, or persuading them to think of a product, company, or person in a certain light.
Now, when I use words like "selling" and "persuading," a lot of people develop a twitch and start throwing around terms like "selling their soul." They assume that copywriting involves conning people into buying things that they don't need. And that's absolutely, completely incorrect.
A copywriter's job, really, is to connect people who have a problem, a need, with that problem's solution. That's really the only effective sales formula. A copywriter uses words that a particular audience will relate to, to communicate a solution (be it a product or a service) to a problem.
Sure, some problems are certainly more critical than others. The copywriter who writes the billboard for an adoption center that helps a family find a child to love is doing a different kind of service to the world than the copywriter who writes a billboard for a gluten-free sandwich shop that helps someone with celiac disease find lunch—but that copywriter is still providing a service to the person who needs a sandwich.

My point is that copywriting is really about using writing to connect people with what they want and/or need.
Copywriting, just like any other career, requires training. Just like there are specific skills and techniques you need to learn to become a chef or a teacher, there are specific skills and techniques that someone must learn in order to become a successful copywriter. (One of the most common mistakes people make is assuming that because they know how to write, they'll be able to find jobs as copywriters. That's just not how it works.)
Creative Directors and clients want to hire copywriters who know how to write copy. They want to hire people who know all the tools and techniques of writing effective messages. Which makes sense, right? I mean, I'm good at driving, but that doesn't mean I can get work as a big rig trucker. I don't know how to do that, so no one's going to hire me to do it. I would need to get training.
Of course, it's hard to find that training. Most schools don't offer it and most of the courses you find, don't offer a thorough training that includes the techniques of writing, but also how to work with designers and project managers, how to get experience, how to build your portfolio and how to find work. So, that's why we created our own training. And the feedback we're getting (and the careers our students are building) show that the proof is in the pudding. Yay for success!
Copywriters get to do interesting, challenging, creative work and work with talented, dynamic people. A copywriter can work on-staff or as a contractor or a freelancer, and he/she can work for ad agencies, in-house agencies or individual clients.
No career is perfect, of course, but it's thrilling to actually see your words in print or online. And I also suspect that it's one of the few jobs in which you're regularly really proud of what you do. On top of that, it's a job in which you can earn $70,000 $80,000, or even well over $100,000 per year. (So that person who told you that you can't make money as a writer can put that in his or her pipe and smoke it.)
Interested in copywriting? Here are more resources:
Copywriting Q&A: Why People Tell You "Copywriting is Hard to Get Into"
Copywriting Q&A: How Soon Can You Make Money?
Copywriting Q&A: The Best Backgrounds for Getting Into Copywriting
Copywriting Q&A: So, How Much Do Copywriters Make?
Copywriting Q&A: How to Know if You Have What it Takes
Last Updated on June 29, 2016 by Nicki Krawczyk