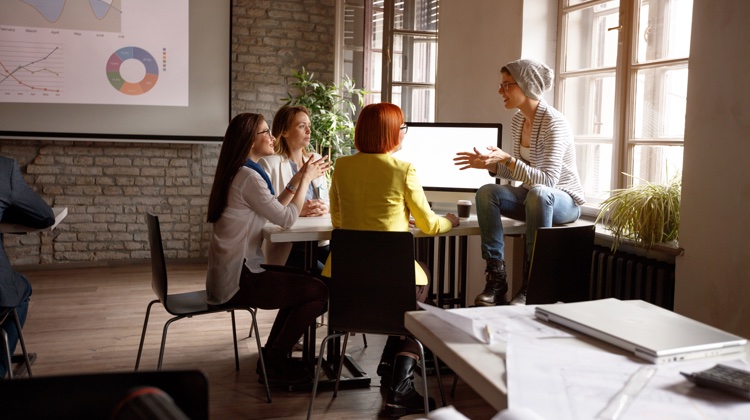 If there's one aspect of copywriting that almost always comes as a shock to the new practitioner, it's creative reviews. Sure, it sounds simple: A meeting in which people get together to discuss work. But what actually happens—and how it can be perceived by writers—is a bit different. Read on for a few tips about how to survive and thrive in creative reviews.
Every writer who's sent any of their work out into the world is used to being edited. You've written it one way, but an editor has a few suggestions for you to make it better. Fine. Great, even. Copywriting is no different, except that you don't have one editor, you have a boss and several stakeholders. And they all have opinions. And you have to incorporate all of them.
By its nature, copywriting is a very collaborative career. You'll create the best work you can from the information that's been given to you, and then the other people involved in the project, perhaps the brand manager or the product manager or any number of other people, will give you feedback based on their personal expertise and insight.
In a way, creative reviews can be challenging because all of these people are giving you all of this feedback at once. You've gone into a meeting in which perhaps a half dozen people are discussing the positives and negatives of your work. This can shake a lot of new writers.
However, creative reviews are also terrific because you get this feedback all at once. There's no getting feedback from one person only to get feedback from another person a few days later and then more feedback from another person a few days later still. It all comes out in one meeting.
Know this: the vast, vast majority of the time, your copywriting will not be perfect and will not be approved in the first creative review. And that's fine! That's the expectation. It doesn't meant that you've done anything wrong and it's not a product of whatever level of experience you have, it's simply because the other people in the room will have insight and expertise to offer that you don't have.

You always want to go into a creative review having done your very best, but it's much more than likely that it's not yet perfect.
Remember, too, that the comments being made are about your work, not about you. You are not your work. (If you try to be, you'll go crazy.) Do your best not to take things personally. First of all, because you'll be a self-conscious mess if you do and, second of all, no one wants to work with someone who falls to pieces or gets angry and defensive each time their work is discussed.
There will be a lot of opinions thrown out in a creative review, but you need to be sure you leave with the information you need to execute the next iteration. Are two people making contradictory suggestions? Be sure you know which one is the right one to go on before you leave.
Ideally, the project manager (or whatever the title of the person who is running the meeting and responsible for eventually approving the creative) will type up a list of all the feedback and circulate it. If not, though, you have to do it. Ensuring everyone is on the same page will save you extra rounds of revisions and the frustration of everyone in a room remembering a past conversation differently.
Creative reviews are also a great opportunity to learn. Listen carefully to the feedback that's being given—there's a good chance you can incorporate that input into future designs. Listen, too, for technical terms and specifications or discussions about how creative will be evaluated and tested. This is always good knowledge to have in your back pocket. If you know all about copywriting, you'll do well. If you know all about copywriting and the business around it, you'll do even better.
Your turn! How do you get through creative reviews? What's challenging for you? Or what do you love? Let us know in the comments below!
Last Updated on November 8, 2022