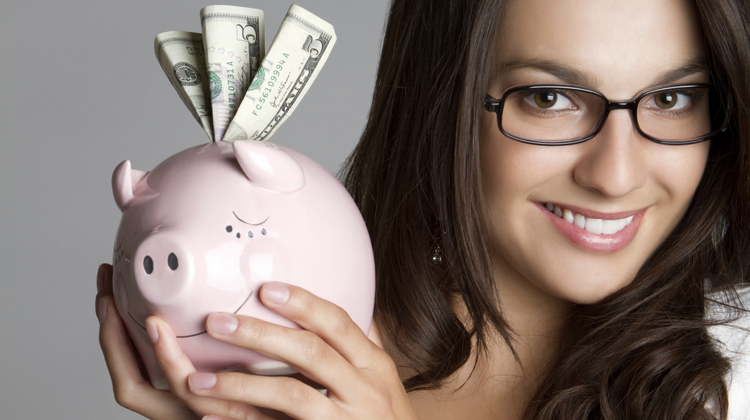 If we can, we get into certain lines of work to pursue our passions. But, of course, with those pesky costs for housing, food and other necessities, we also work to pay our bills. That said, it helps to know what you're getting into, right? So let's talk a little bit about what kind of money you can make as a copywriter. (That piqued your interest, eh? 🙂 ) Read on…
Today's question comes from Evan L. who asks, "I'm interested in getting into copywriting, but I kind of want to know what I'm getting into….What does a copywriter get paid?"
Well, you've probably heard me say (or seen me write) that copywriting is the very best way for a writer to earn a living. And it very much is—unfortunately, it's not particularly lucrative to be a journalist, a novelist, an English professor or even a magazine writer. It's an utter shame, but it's true.
Copywriting is a career in which we can make very good money for being skilled at putting words together. How good? It's absolutely possible to make six figures once you've gotten experience and contacts—and cultivated the ability to really dig in and make the work come to you.
That said though, exactly how much you make depends on a few different factors—for example, whether you work full-time, part-time, on-staff, freelance or as a contractor. Contractors usually make more per hour than the hourly equivalents of their on-staff counterparts since they have to pay for their own health insurance and (in the States) self-employment tax.
Freelancers (that is, work from home freelancers) are a bit harder to gauge since it depends a great deal on the writer's willingness to network, drum up business and hustle for work. That said, unless they're taking low-paying work to build up their portfolios, they're making hourly equivalents of contractors.
Overall, the amount you make comes down to 1) how good you are at what you do, 2) how pleasant you are to work with, 3) whether you live in or near a relatively busy city, and 4) how much you're willing to hustle to find a job or to find clients. If you're willing to get trained, meet people and then get work, you will do well. (If you're not willing to hustle, good luck finding success in any career though, right?)
Now, down to real details:
Because it can vary so much from city to city, I can't really give you a good ballpark for how much you'll make for a salary—but I can give you a tool to figure it out for yourself.
First, you can skip those "online calculators." Even from the most reputable sources, they're often grossly off-mark.
Second, check the listings for jobs in your city (and nearby cities) that match your level of experience (or the level of experience you'll be at when you finish your training.) Some job listings won't offer salary information, but many will. Just be aware that non-profits and universities tend to pay slightly less than average.

Third, check with recruiters. Once you're ready to start looking for work, you should be getting registered with recruiters, so now's a good time to research which creative recruiters are operating in your city. All you have to do is put in a phone call, send an email or even just connect with a few recruiters on LinkedIn and ask what the average salary range is for your level of experience.
If you want to figure out how much you should charge for contract or freelance hourly rates, take an average of the salaries you find, divide by 2080, (40 hours a week at 52 weeks a year) and then multiply by 1.5. Again, that extra .5 is to account for the extra things freelancers and contractors have to pay for that on-staff copywriters don't.
Now, again, all of this is really kind of a ballpark. You'll find clients and employers who are willing to pay more and, of course, those that are willing to pay less. Also, you may decide to take work for lower fees to build your portfolio and client list—but you'll probably also soon find a rate that you're not willing to work below.
I know that's probably not the exact numerical answer you were hoping for, but it will help you come up with numbers that are specific to you, your experience level and your area. But again, I think you'll be pleased with the numbers you come up with. I know that I've been. 🙂
But all of this, of course, only comes into play once you actually know how to write copy. Many people make the mistake of thinking that because they know how to write, they know how to write copy. (But just because I know how to drive doesn't mean I know how to drive a Mack truck, right?) You need to get training—a real training that not only covers how to write copy, but how to get experience and build your portfolio, too. There aren't a lot of copywriting trainings like that out there…which is why we created our own.
Your turn! Have you found any other unique ways to find salary information? Let us know in the comments below!
Want to get started in copywriting? Here's more info to help:
Copywriting Q&A: Confused About Where to Start? This One's for You
Copywriting Q&A: Why People Tell You "Copywriting is Hard to Get Into"
Copywriting Q&A: The Best Backgrounds for Getting Into Copywriting
Copywriting Q&A: How Soon Can You Start Making Money?
Copywriting Q&A: The First Step in Changing Your Career