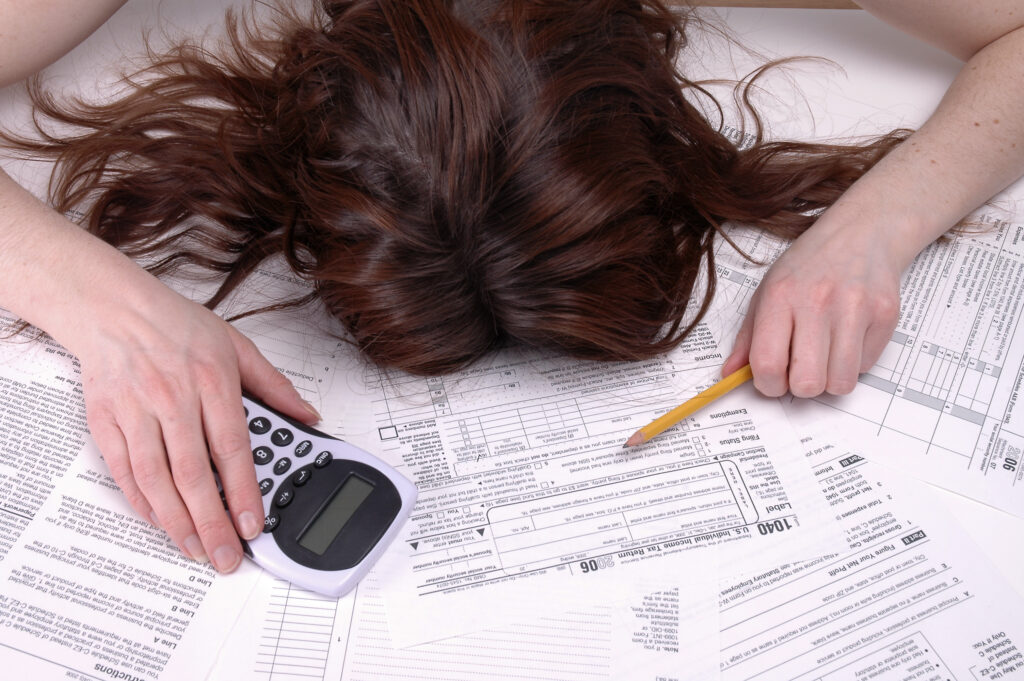 Note: We are not legal experts or tax preparation professionals, so always consult an accountant, tax prep professional, or attorney if you have concerns. This information is aimed at copywriters in the United States. Copywriters in other locations may find this information useful for determining what questions they need to ask and answer based on their country, region, or city.
If paying taxes is what's holding you back from freelancing, there's some good news: all the "what if's" and worst-case scenarios you're thinking are all solvable (and probably not as bad as you think).
And, if you've been freelancing for a while, it's always good to make sure you're correctly handling your finances. Even if you work with a tax professional, it's good to know where money is going and why.
So, take a deep breath, put on your CEO hat, and let's make sure you're not making guesses with anything related to your bottom line.
Reporting Income as a Freelancer
There's a common myth among freelancers that if you make under $600 with a client you don't have to pay taxes. This is 100% false.
If you make under $600 with a client, they are not obligated to send you a 1099-MISC form. And, even the clients that should send you a 1099 may not send one. It's your responsibility to track your freelance income.
If you make $400 (net earnings) you have to file taxes for self-employment income. Even if Client A paid you $300 for a project and Client B paid you $500, you need to report all of that just as you would your clients who send you 1099s. Essentially: you need to include all income earned from your freelance business, including payments under $600.
That way if you get audited, the deposits from Client A and Client B aren't questioned—and you don't end up having to pay interest and penalties.
Calculating Quarterly Tax Payments
As a freelancer, you should start making quarterly estimated tax payments if you expect to owe more than $1,000 over the course of a year.
That's because as a freelancer, no taxes are withheld from our payments as they are with an employer. When you work in an office, your employer is already taking out money for Social Security and Medicare (you may see it on paychecks as FICA, for the Federal Insurance Contributions Act).
As freelancers making $400 or more, we owe self-employment tax, which is essentially that money that is normally withheld automatically for employees.
Since we are the employer and the employee (which has major perks we'll get to in a sec), we are paying both our half and the half the employer normally pays.
Before you think, "Wait! Doesn't that mean I pay more?" we have more opportunities to reduce our taxable income (see below). For the most part, we're simply paying money a different way (quarterly).
As the IRS says, we could pay all our estimate payments up front at the beginning of the year, but they give us the option to pay it quarterly to make it easier. Besides, who wants to pay thousands of dollars to kick off the year?
Use Form 1040-ES to calculate what you should be paying (a tax professional can also help).
The math can feel funky, especially in your first year, but the key is to at least try. As long as you're making payments, it will be much better than the surprise of suddenly paying an entire year's worth of taxes (and any penalties for not paying throughout the year).
Making Quarterly Tax Payments
The dates for payments, oddly, don't follow a true quarterly schedule. For example, Q2 payment period is April 1–May 31, with the payment due June 15. Click here for the IRS's handy chart of payment due dates (and bookmark it!).
We strongly recommend adding them to your calendar with a reminder a couple of weeks before to make sure you're ready to pay).
It's also why we recommend setting aside money in a separate account specifically for paying taxes; there's nothing worse than being super excited about earning $5,000 from a client project, spending it all, and then having to scramble to pay taxes. How much you put aside is up to you; we recommend at least 25%.
You can pay by check (once the IRS recognizes you need to make quarterly payments, you'll start receiving pay slips and envelopes for each quarter in the mail). You can also pay from your bank account, or debit or credit card, but there is a small fee for the latter.
Again, put your best foot forward. While there are penalties for underpaying, the IRS notes taxpayers can avoid this if:
You owe less than $1,000 in tax after subtracting your withholding and refundable credits
Or if you "paid withholding and estimated tax of at least 90% of the tax for the current year or 100% of the tax shown on the return for the prior year, whichever is smaller."
So, if you paid taxes on 90% of your income in a given year, you should avoid the penalty. If you start earning more than you estimated, you can make up payments. Alternatively, if you overpay in the first quarter, you can adjust on your second quarter, and so on. The key is to never get behind on payments.


Reducing Your Taxable Income
Just because you're paying quarterly taxes doesn't mean you're exempt from filing annual taxes like everyone else. In addition to paying quarterly taxes, you'll file your annual income tax return before April 15 (Semi-fun fact: Tax Day is April 17 when April 15 lands on a Sunday and April 18 if April 15 lands on a Friday or Saturday).
If you overpaid on your quarterly taxes, filing your annual tax return will allow you to get that money back.
There are a ton of ways to reduce your taxable income as a freelancer. The IRS also explains expenses you can deduct (note: you'll want to check deductions based on your business structure).
Remember that employer portion of your self-employment tax? You can deduct that when figuring out your adjusted gross income when filing your annual return.
When you start making a great income as a freelancer and do not have any employees, another perk is being able to open a solo 401(k) retirement plan. You can contribute as the employer and the employee, allowing you to significantly reduce your taxable income, while boosting your retirement savings.
There are annual limits for employee contributions ($19,500 in 2021, or $26,000 for those 50 and older). Your employer contribution takes a bit more math to figure out. For self-employed individuals, it is "net earnings from self-employment after deducting both one-half of your self-employment tax and contributions for yourself."
If you're copywriting as a side hustle, you can only make contributions based on your freelance income. And, if you have a 401(k) or other retirement plan with an employer, your employee contributions cannot total more than $19,500 between both plans (i.e. if you contribute $6,000 to your employer plan, the max you can contribute to your self-401(k) is $13,500).
Your Turn! What did we miss? What are your best tips and tricks for surviving tax season?
Last Updated on January 23, 2023