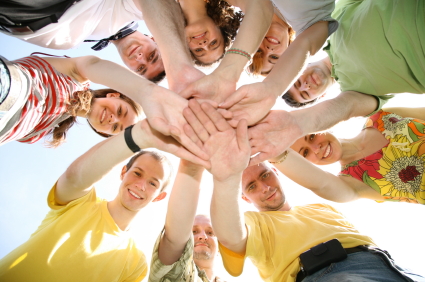 Sure, we all daydream about being Don Draper and commanding—or even just being a part of—a creative team in a big, hip advertising agency. But there's another kind of opportunity you need to know about that offers all of the bright coworkers, interesting projects and, yes, sometimes tough deadlines outside of the traditional ad agency. Read on…
Today's question comes from Ashley H., who asks, "I just talked to a recruiter who asked if I was interested in working at internal agencies. I said 'yes' since I want work but…what's an internal agency??"
Great question. So, as you probably know, an advertising agency is a group of creatives (designers and copywriters), account managers, media buyers, production teams and various other roles. An advertising agency is hired by a company to produce ads for them. The other company pays the bills and has the final say on all creative.
Depending on the size of the agency, it could have anywhere from a few to dozens and dozens of clients. If it's a large agency, you're likely to work on just one account (read: do work for one client) but at smaller agencies you make work on multiple accounts.
So that's one side of the agency coin.
The other is the "internal agency," also called an "in-house agency." An internal agency is very much like an ad agency, except instead of operating separately from their client, they operate within it.
Internal agencies are the groups of people who work for a company and that do the advertising and marketing work for it. Like ad agencies, internal agencies are often comprised of all of the same type of people—creatives, account/brand managers, production teams, etc.
Unlike ad agencies, the only client an internal agency takes on is the company that they work for. However, bear in mind that if a company has several brands within it—General Mills, for example, owns Wheaties, Yoplait, Pillsbury, and so on—you could end up working on several of that company's brands. (That's just an example; I don't know how General Mills actually structures their internal agency.)
While external agencies generally work on bigger campaigns (with all media components), TV and radio, internal agencies are often responsible for the more day-to-day creative like signage, direct mail, banner ads, emails and websites. But don't for a second think that that stuff isn't interesting and ripe for creativity, too.
Internal agencies present a great opportunity for you to do great work, build your portfolio and meet some very talented people. There's a bit of a feeling that internal agencies are less dynamic, fast-paced and creative than external agencies…but that's simply not true. There are some internal agencies doing amazing work (and there are some external ones doing boring work!).
Especially if you're just starting out, I'd recommend trying to get both agency and internal agency experience under your belt as soon as you can. It will show potential employers that you are comfortable in both settings and you'll get the chance to see if one or the other is a better fit for you.
Your turn! Do you have experience in an internal agency? What did you think? Let us know in the comments below!
Last Updated on March 16, 2016 by Nicki Krawczyk