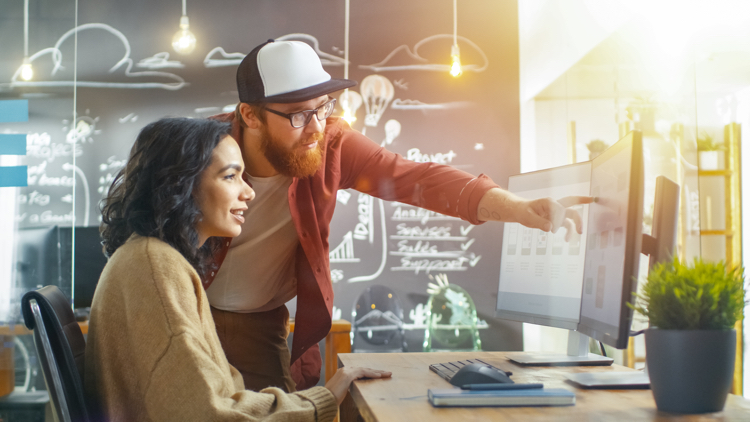 It's one thing to want to make money through your writing talents, and another thing entirely to actually do it.
You might be able to imagine writing copy for a living—making a good, quite possibly really good living from your writing—but you might get a little fuzzy when it comes to the details.
As in, you can imagine yourself sitting at a computer and typing, or maybe brainstorming with a pen and legal pad…but as for everything else, how the rest of your time shapes up, you might be at a loss.
Which makes sense: Aside from actually driving around and around the track, I have no idea how a race car driver spends all the rest of his or her time. I'm not a race car driver!
And, since you're not yet making your living as a full-time (or maybe even part-time) copywriter yet, you probably don't quite know how a copywriter spends their time. So…let's fix that!
You already know that copywriting can be a pretty flexible career and there are a number of ways that you can structure how you work. You can work on-staff for a company, you can contract for a company, or you can freelance—you can do all of that either full-time or part-time.
The daily experience of a copywriter tends to break into two categories, essentially depending on whether you go into an office or not. Here's what a day in the life of a copywriter looks like whether you're freelance, on-staff, or contract.
A Day in the Life of an On-Staff or Contractor Copywriter
If you need a little refresher about what it means to be a contractor (and why it can be so great), you can check that out here. But, suffice it to say, both of these categories of copywriters are heading into offices.
As you might expect, unless it's a part-time gig, the life of these copywriters are mostly 9 to 5. And, while actually writing copy is very much a large part of the workday, they also have lots of opportunity for collaboration.
An in-office copywriter will spend time attending kick-off meetings to get projects started and creative reviews to check in on, get feedback on, and eventually get projects approved. They'll get the input in the kick-off meetings and then, after working on the projects, they'll present the projects and get feedback in the creative reviews.
They'll also spend time working with their design partners to concept (brainstorm) projects and figure out what they need to look like and what they need to say. This part is especially fun since it's entirely free-range: maybe you and your design partner are in a conference room looking at things online, maybe you're in the office lounge area laying on sofas and calling out ideas to each other, maybe you've moved to a coffee shop down the block for a fresh perspective.
Most companies will also involve copywriters in more strategic meetings about the direction of the marketing or even the direction of the company in general.
So, in a nutshell, a copywriter might head into the office, check their email, review the status of the multiple projects they're working on, and then plan their writing time around the various meetings and brainstorm sessions that are scheduled for that day.
What sets these types of copywriting work apart is that you'll get to collaborate with a lot of smart, interesting, creative people throughout the day. You'll have plenty of time on your own to write your copy, of course, but you'll also get your creativity sparked by lots of other inventive brains.
A Day in the Life of a Freelance or Side Hustle Copywriter
For freelance copywriters and side hustle copywriters—essentially, part-time freelance copywriters—the day looks a little bit different.
(And, obviously, for a side hustle copywriter, this applies to the time of the day when they're focused on their copywriting work, not on another full-time job.)
Freelance copywriters have the benefits of being able to work from wherever they want to and, in many ways, work whenever they want to. Now, of course, they need to be available for client calls and the like, but the actual writing of copy and other essential tasks can happen at any time of the day or night.
As with in-office copywriters, certainly, a lot of time is spent actually writing copy. But for a freelance copywriter, there are two other activities that take up a lot of their time.
First, of course, they need to have calls and check-ins with their clients. They'll keep them abreast of work and present drafts when they're ready for feedback.
But, unlike with an in-office copywriter, who gets projects handed to them, a freelance copywriter is responsible for finding the work they do. That means that they have to spend at least a portion of their days prospecting for new clients or following up with potential clients.
Crucial note: Prospecting for clients is not nearly as scary or hard as most people think it is. Here's why. Also, here's why it's so important.
A freelance copywriter's actual day is a little harder to quantify, but an average day for a freelance copywriter involves sitting down, checking emails, reviewing the status of each project, dedicating time to writing copy, dedicating time to prospecting for clients, and dedicating time to following up with both current clients and prospective clients.
A freelancer is naturally going to spend more time on their own. There is some collaborating, of course, but generally much less that in an office. There are both positives and negatives to this, but it's an important distinction.
An Important Note
Now, I wanted to put this together to give you a realistic idea of what copywriters actually do, day in and day out. BUT, I also want to make sure this doesn't tarnish the magic for you.
Yes, these jobs do involve going to meetings and/or prospecting for clients (which, again, is really not that hard), but those can actually turn out to be a lot of fun.
Also, don't forget the fact that it's actually a lot of FUN to do the copywriting work. It's challenging in the best way, and it's exciting to use your writing talent and the copywriting skills you've acquired to communicate a message and meet a goal.
And then, it's incredibly fun to delight your clients/boss with your work and see your writing—YOUR writing—actually produced out there in the world, in print and online.
(Not incidentally, it's also pretty darn nice to get the paychecks that come with it.)
Copywriting isn't all magic and creativity and fun—no job is—but there's still a lot of it that is. And the part that is exciting and fulfilling and rewarding is certainly worth the price of a few boring meetings or putting in the half hour a day of prospecting.
Your turn! Are there any specifics missing here? Anything you want to know about a copywriter's day that I haven't covered? Let me know in the comments below!
Last Updated on January 18, 2023