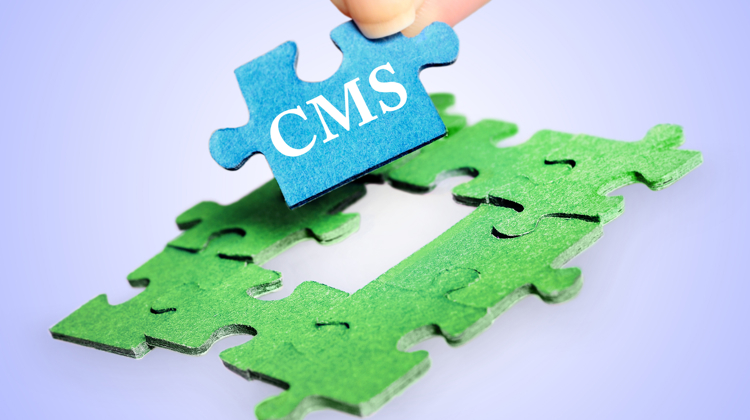 Often, writing involves creating your copy deck, sending it to your designer, and then working together to make tweaks. But what happens when, instead, it involves inputting your copy directly into a computer system? Read on…
Today's question comes from Ceejay R. who asks, "I had an interview with a recruiter who asked me if I'd ever worked with a CMS. What is that?"
CMS stands for "Content Management System" and, as you might be able to tell from the name, you'll come across content management systems most often when you're writing content, rather than copywriting.
A CMS is basically software that a company uses to manage the content that appears on their site. (If you're at all familiar with WordPress, this is actually a CMS.) On the "back end" of a content management system, you have all the controls for what and how things go up on a site. The front end, really, is what gets served up onto the site.
The way you're most likely to interact with a CMS is if you're writing blog posts or smaller content elements for a company and they want you to upload that content directly to their CMS to either go live immediately on the site, or wait within the CMS for someone to review it, approve it, and send it live to the site.
Most CMSes aren't user friendly in the least and definitely aren't very pretty (why bother making the back end of a site look pretty is the general thinking). That said, though, uploading content is usually a matter of following a specific set of steps. Uploading directions would follow steps like "Click on the 'content' tab. Click on the button that says 'Add New.' Select the 'Advice' category box. Paste content into the open field. Click 'save draft.'" and so on.
Even if you haven't worked with a CMS before and you're comfortable with working online and following directions, there's a good chance you'll still be fine with CMSes—and you can also let a recruiter know that. Chances are, a company won't be completely turned off if you've never worked with one before. If, however, you have trouble following step-by-step directions, or you're freaked out by uploading copy to a live site, you may want to steer away from these projects.
Your turn! Have you ever worked with a CMS before? What was your experience like? Let us know in the comments below!
Last Updated on October 7, 2022