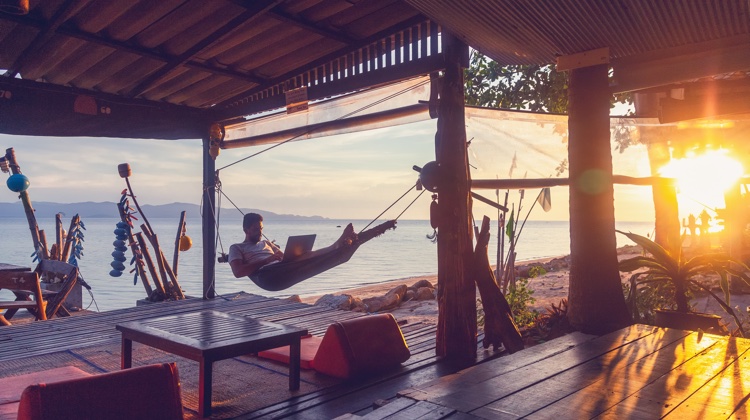 If you're interested in copywriting because you want to live the life of an international jet-setter, it sounds kind of crazy to say it, but it's absolutely possible. (Case in point, I'm writing this from Portugal. Life is good.)
The truth is that getting remote work while you're working overseas is no different than getting remote work when you're at home. You still follow the same steps to pitch potential clients, follow up with them, do the work, and send the invoices. Nice, huh?
That said, though, there are a few concerns that you need to keep in mind. What do you do when your super-cool Airbnb in Florence turns out to have super-slow WiFi? How do you navigate the difference in time zones?
Here are five essentials to ensure you can navigate working overseas and come out on top:
A reliable computer. I know – this sounds obvious, but bear with me. Your computer is 100% your key to making money overseas and if anything goes wrong with it, you're screwed. If you drop it, or if the screen stops working, or if it crashes or even if one of the keys stops working (it happened to me!), you're in big trouble. You need to plan for some kind of back up, whether it be a small portable keyboard to work with sync with your phone or tablet or even a small, back-up laptop. You need to be prepared for anything.
Skype, Zoom, Google Meet. Many of your client meetings will take place over video. The perk with a tool like Skype? You can set it up to make international calls. Now, you should also at least know how to make international calls on your phone when you need to (without paying a ton in roaming charges), but Skype can be a great alternative when you can use it.
A strong internet connection. Most places you'll stay will offer WiFi (it's the 21st century after all), but that doesn't mean that it's good WiFi. In a pinch, most restaurants and cafés will offer free WiFi and won't mind if you work a bit while you eat or sip. But you also need a back-up, and I recommend an international WiFi hub like Skyroam.
A quiet place to work. When you're looking at reviews for hotels and Airbnbs, make sure that "quiet" is one of the attributes people review. There's nothing worse than trying to sit down to work and having to deal with screaming tourists outside or, on the other hand, trying to sleep in anticipation of dealing with a long upcoming day of work and dealing with the bumping nightclub downstairs. (Been there.)
Dedicated time to work. If you're traveling on your own, this isn't too different from being at home. But if you're traveling with friends or your significant other, it can be harder for them to understand that you need 4 hours (or more) a day to actually do the work that allows you to take the trip. Be sure to lay out your expectations and needs ahead of time, and also, especially on days when you're traveling from one city to another, schedule out your work hours in advance.
Bonus tip: If you're planning on working from cafes, whether at home or abroad, or tend to work in places where you can get crumbs underneath your keys (hello hummus and crackers!), spend the few bucks on getting a keyboard cover. They're generally under $10 and are designed to fit your specific computer model, so be sure to do a quick search to find the one that works for you (for example, this one fits the MacBook Air).
Your turn! Have you had the chance to work while you're traveling yet? What do you like about the idea? What are your concerns? Let me know in the comments below!
Psst! This post contains affiliate links.
Last Updated on May 12, 2022 by Nick Olds