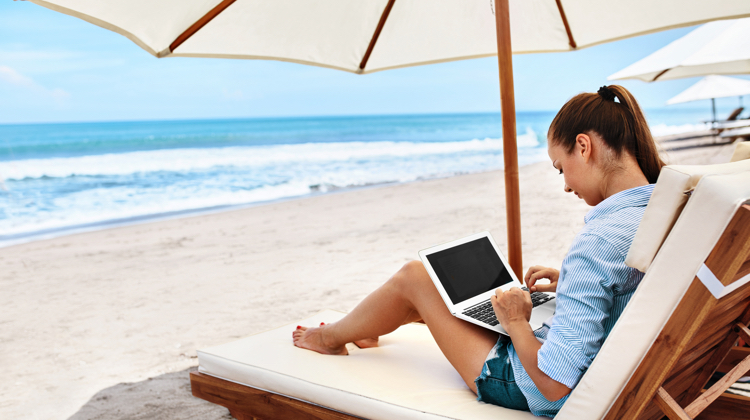 Traveling the world is a pretty common dream, but certain jobs make it easier than other. And not just easier to take a vacation—but easier to spend weeks, months, or even years living overseas. Could copywriting facilitate a digital nomad lifestyle for you? Read on…
Today's question is from Lucy P., who asks, "I keep reading about people who live and work overseas, freelancing and traveling. That sounds amazing! Is that something I could do as a copywriter?"
One of the (many) great things about being a copywriter is that it gives you more flexibility than a lot of other careers. Sure, you can get a job for an in-house or ad agency and work on-staff, but you could also contract or freelance.
In a lot of ways, freelancing offers you the most flexibility. You can decide what hours you want to work, and from where you want to work. Which means, of course, you could choose to work from a brownstone in Brooklyn or a hut on the beach in Bali.
So, yes, you can create a digital nomad lifestyle as a copywriter.
But, before you pack your bags and book your tickets to Belize, there are a couple of things you should know.
Getting enough freelance work to support yourself is a challenge, but getting enough entirely remote freelance work adds an extra challenge. Most freelance work requires a meeting or two with your client…but if you're in Caracas, it's hard to get to Chicago for an 1:30 meeting on Tuesday.
Also, working on the beach sounds nice, but bear in mind that that beach had better have a strong and reliable Wifi signal. You need to be available at all times, and you can't blame missing conference calls or missing deadlines on the lack of internet access.
It's also more challenging to make sure you have access to the internet, a printer, and the various other things you'll need when you're in a country in which you don't speak the language fluently.
All of this said, though…it absolutely is possible to create a digital nomad lifestyle as a copywriter.
Will it be easy? No, definitely not. As with any other digital nomad career, you'll have to really hustle to find and keep clients. You might have to take work that doesn't pay at your normal rate to make ends meet, and you'll want to take nearly any work you can get to make sure you've got money coming in.
It won't be easy. But if it's truly your dream, it's definitely worth it.
Your turn! Have you considered a digital nomad lifestyle? Let us know in the comments below!
Last Updated on March 10, 2022 by Nicki Krawczyk