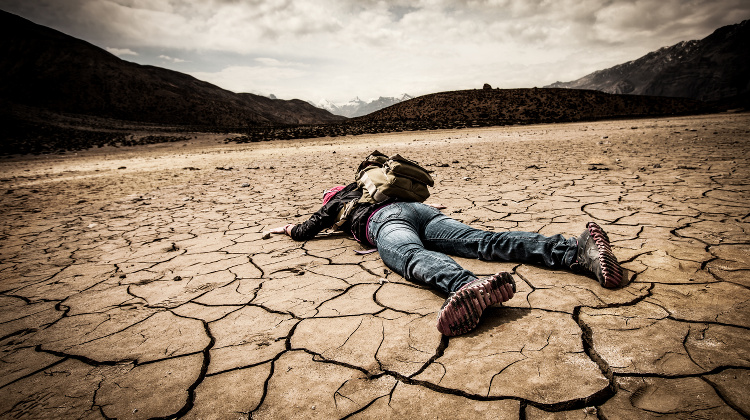 Freelancing can be wonderful: All that freedom! But with that freedom comes a lot of risk, too. If there's no work, there are no paychecks. So, how do you avoid your income drying up? Read on…
Today's question comes from Aline H. who asks, "I freelance part-time now (in addition to my full-time job) and I want to move into freelancing full-time. But I'm scared to do it if the work isn't always going to be there. How can I make sure I always have money coming in?"
A lot of people will tell you that the key to freelancing is confidence—but good luck feeling confident when there's no money coming in. In fact, good luck feeling anything but flat out panicked. Unfortunately, "panic" is not a trait that's going to encourage people to hire you.
The thing it, dry spells almost never just show up out of nowhere. Unless your city's hit by a comet, it's just never going to be the case that your schedule is chock full one day, and completely barren the next.
Instead, the work just slowly peters out. You wrap up work with one client, and then a few days later you wrap up work with another client, and so on until there's nothing left.
A dry spell isn't an instant occurrence, just as prospecting for work isn't a momentary thing. A dry spell happens over time, and filling your schedule happens over time.
And the reason dry spells happen is because, at some point, you eased off the job prospecting accelerator. Maybe you're busy with work and don't think you need to prospect for a while. Whatever the reason, a gap in job prospecting always translates to a gap in work a few weeks or months down the line.
Got that? Lack of job prospecting=a dry spell. It won't be instant, but it will happen.
But since that's the problem, it also contains the solution. You prevent a work dry spell by continually and consistently prospecting for work.
Even when you're busy, you need to be getting your name out there. Talk to recruiters, attend network events, send sales letters, apply for jobs. Do all of it. It's so easy to let yourself bask in the glow of a robust workload and forget to do the very things that keep your workload robust.
Until you get to the point when you have recruiters calling you every week about work and/or colleagues calling you with offers of open positions or available projects, you can't stop prospecting. (And, even then, you don't want to stop completely.)
You can't prevent a dry spell while you're already in it. Keep prospecting to keep making sure the work comes in. That's the secret to success.
Your turn! Have you ever had a work dry spell? How did you get out of it? Let us know in the comments below.