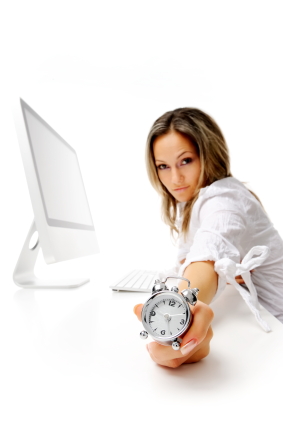 As you know (at least partially because I say it again and again) it's crucial to have an online copywriting portfolio. You need a place to send potential employers and clients before they meet you to prove how good you are at what you do. But even if you have the very best ads on your site, there are still a few things you can do to make your site more interesting and compelling—almost instantly. Read on… 
Today's question is from Ellie S. who asks, "I've worked really hard on my spec ads and made my site look really nice and professional (with my contact info front and center!)—what else can I do to make it better?"
This is a great—and super-important—question. For the most part, whenever you're applying for a job, you're going to be up against at least a couple of other copywriting candidates.
Your portfolio site has two main jobs: 1) to display your work and prove that you're good at what you do, and 2) to set you apart from your competition.
Today, we're going to talk about the second part and a few quick ways to instantly set yourself apart and improve your portfolio site.
1. Post a new picture of yourself.
I know, your portfolio isn't a dating profile. But, at the same time, you'll just naturally make people more comfortable by showing them the copywriter behind the site.
You don't need a professional photo (unless you specialize in a very conservative field like law or finance, and even then…). Your picture should show a bit of your personality and make you look friendly. It should make you look like the kind of person people want to work with.
That, said, though, you probably don't want pictures that, say, you wouldn't be proud for your mother to display. Swimsuit shots, duckface selfies or pictures of you with empty bottles of tequila are probably not the direction you want to go. Think "interesting," "friendly" and "fun."
2. Make your bio interesting.
Your bio needs to focus on your USP, but it doesn't have to sound like your typical resume or cover letter. Remember, your bio should sell you just as much as anything else on your site. If you want people to think you can write compelling copy for their products, you need to show them that you can write compelling copy for yourself!
Show your personality in your bio. If you're silly, you can add a little bit of silly copy. If you're irreverent, add a touch of irreverence. Don't let your personality overwhelm your bio—your USP still has to be the focus—but, also, don't be afraid to show people who you are.
3. Delete any non-copywriting work.
I know, you're proud of your novel in progress, but you need to take down the section with your latest chapters. And your band is awesome and deserves its own site, not a sub-section on yours.
Here's the thing: The focus of your copywriting portfolio site needs to be your copywriting. Having anything else up there prominently displayed is a problem for a couple of different reasons. First, it conveys that you don't know how to edit out the important stuff from the not-as-important stuff.
Second, it may suggest that you're not serious about copywriting. That is, it suggests that you do copywriting work but your real love is something else. And that may very well be true, but you certainly don't want a potential employer to know that!
Well, there you have it—near-instant upgrades for your portfolio. Sooo…what are you waiting for? Get to it! 🙂
Your turn! What have you added (or removed!) to improve your portfolio site? Let us know in the comments below!
Last Updated on August 31, 2021 by Nicki Krawczyk