If someone on your holiday shopping list is a writer, you know we can be a hard bunch to buy for. After all, we already spend a lot of time online shopping as we procrastinate while headlines loom. 😉
So, to give you a little helpful holiday hand, we've put together this list of gifts that should make any writer gleeful. And if you happen to be a writer yourself, well, sometimes you deserve a little love, too.
Turkey Feather Pen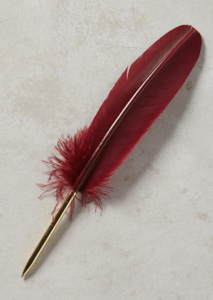 Give a nod to writers of yore with one of these gorgeous pens. Who knows? Maybe the key to being as prolific as Shakespeare is just writing with the same kind of implement. Let us know.
Leather Messenger Bag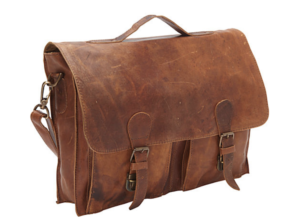 Writers have a lot to lug around: notebooks, laptops, newspapers, dozens of pens that somehow never appear when they're needed. So do your writer a favor and give him/her a great looking distressed leather messenger bag with lots of pockets. It'll last forever and only look better the more it gets bumped, bruised, and used.
 Gold Ear Buds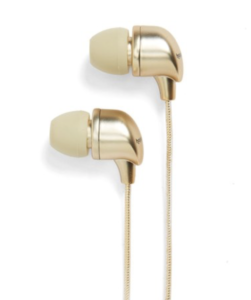 Whether they're trying to drown out the sounds of a busy cafe, the office gossip, or multiple episodes of Sesame Street, every writer needs music. These gold-colored ear buds do the job, but also add a little bit of ritzy style. (Maybe success is in the details!)
Deco-Gilded Journal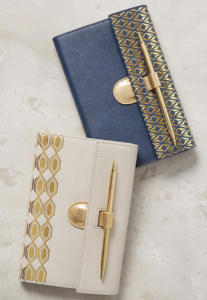 Sure, a writer can use any old notebook—but why use any old notebook when you could use one of these? These deco-gilded journals have a look Scott and Zelda would definitely approve of. (Ernest? Proooobably not so much.)
May You Never… Flask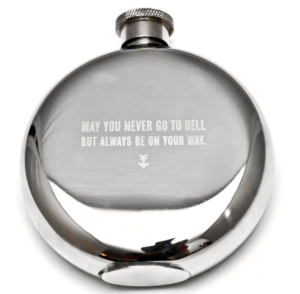 Okay, good old Hem would definitely appreciate this one, though. This 5 oz. flask is perfect for an on-the-go tipple. This is not to say, of course, that all writers drink…but those who do, should do it with a little panache, don't you think?
Bracelet with iPhone Charger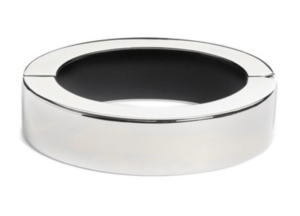 The writer-on-the-go always needs to keep their devices juiced up—there's just no way to know when a client will call or a book deal goes through. This silver bracelet is pretty swanky on its own, but it also cleverly conceals an iPhone charger to ensure you're without power.
Procrastination T-Shirt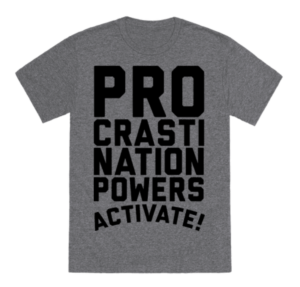 Writers are very hard workers but, look, we're not going to do it today if we can do it tomorrow. That's what deadlines are for: To tell us what to do for the two hours right before them. So reward your writer with a t-shirt like this that appreciates their gift for, ahem, creative time management.
The Gift of Learning (and Earning)
If your writer loves the craft, but is having a hard time making money at it…well, that's not really anything new. The vast majority of writers (novelists, journalist, bloggers, etc.) never really make the big bucks. Copywriters, on the other hand, are in high demand, get all the benefits of working in a creative field, and earn a really nice income on top of it. Give your writer a leg up with proven copywriting training that teaches him/her everything they need to know about how to write copy, how to find clients, how to build a portfolio, and how to ensure they've always got money coming in.