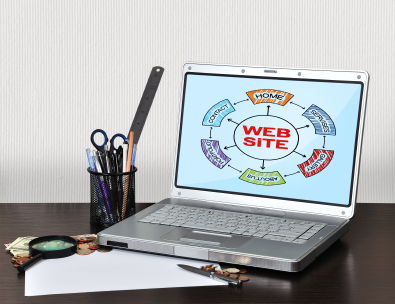 Today's question comes from Taylor A., who asks, "I know I need to have an online portfolio, but I don't know how to build a website! Do I have to hire a designer, or is there an easier way?"
Great question, Taylor, and great news: There is an easier way! We've compiled a list of websites that help you built your own online portfolio site, mostly with super-easy drag-and-drop functionality.
Some of these are free and some of them have a small monthly fee, but even with the cost of your own URL (usually about $15/year or so), they're all pretty sweet deals for creating your very own, completely customized websites. (And definitely much cheaper than hiring a designer!) So, without further ado, here's our list:
1. Squarespace This drag-and-drop website builder offers good looking templates that are all optimized for mobile, free custom URLs, unlimited storage, and lots of other features.
2. GoDaddy If you're looking to get started for free, GoDaddy offers the option to create a website and add premium features when you're ready. Of course, if you want a custom domain (like, [yourname].com), you'll need to purchase at least the basic plan.
3. Wix This site has hundreds of templates to choose from, which can be a little overwhelming. The quality of the templates, though, is very impressive.

4. Weebly This is another solid choice with plenty of happy customers and a solid track record of reliability. Now backed by Square, its messaging focuses on ecommerce but don't be fooled: It's still a great option for building non-ecomm copywriting portfolios.
5. IMCreator The templates on this site tend to be a little more modern and edgy and the functionality can take a bit of work to figure out, but the end results are very impressive.
This is just a sampling of sites and more are being added everyday, but that only means that there is no excuse for you not to get your online portfolio up and live right away!
And now it's your turn: How are you building your online portfolio? Or, have you built it already? How did you do it? Let us know in the comments below!
Need to build your portfolio? Here's more info to help:
Copywriting Q&A: How to Set Yourself Apart from Your Competition
Copywriting Q&A: The Biggest Print Portfolio Mistake
Copywriting Q&A: 3 Ways to Instantly Improve Your Portfolio Site
Copywriting Q&A: One Tactic to Set Your Online Portfolio Apart
Copywriting Q&A: Why You Need a Standalone Portfolio Site
*Psst: This page contains a Squarespace affiliate link and purchases you make through it will help support our company. Just so you know.
Last Updated on April 29, 2021 by Kate Sitarz