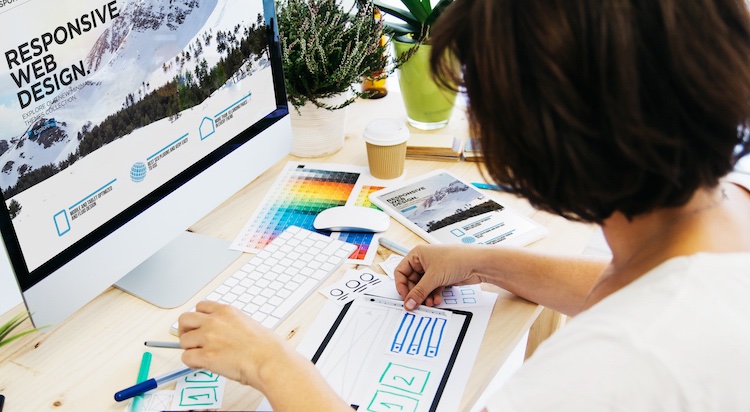 As a copywriter you need an online portfolio. But, if you put your work up on Behance or CreativeHotlist, do you still need your own site, too?
Short answer? Yes.
Longer answer? Yes, yes, yes.
With so many great sites out there dedicated to hosting your online portfolio, you might be askign yourself why I'm so adamant about you creating your very own site.
If you're not familiar with them, Behance and CreativeHotlist (and others like them) are sites that host many people's portfolios. They usually give you the ability to upload your pieces within their proscribed template and a place to write a bio about yourself.
They host many people's portfolios and offer employers and clients a way to search for talent and then contact the candidates they like. I've gotten quite a bit of business from CreativeHotlist and so I definitely recommend putting your samples and bio up on the site. (There's a small fee.) I haven't put anything up on Behance yet, but I hear good things as well.
Now, for the downside of these sites, all we have to do is go back to the last paragraph's first sentence: These sites offer people a way to search for other talent. And that means that if you provide your client with "www.creativehotlist.com/nkrawczyk" as your portfolio site, they can go there to check out your work—and then search through the listings for other writers.
Now, I'm not saying that every potential employer will do this. But look at it this way: If you needed to hire a plumber and your plumber gave you a link to a site that listed him but also many, many other plumbers, wouldn't you at least look around?
All I'm saying is that you don't want to give people the opportunity to be distracted by other writers when what you really want them to do is go through your pieces and read your bio. You want to keep them single-mindedly focused on you.

When you send them a link to CreativeHotlist or Behance, they have the opportunity (whether they take it or not) to then also search other writers. But when you send them a link to your website at your dedicated URL, the only thing they'll be focused on is you, your talent and deciding whether or not you might be a good fit for their needs in.
When you send them to your own, personal portfolio site, you control the interaction much more so than when you send them to a portfolio listing site.
Should you go ahead and set up a listing on a site like CreativeHotlist or Behance? Absolutely. But you also need to set up your own portfolio website and that URL is the one you need to be sending out to potential employers and including on your resume/selected credits resume.
Your turn! Do you have a standalone portfolio site or a page on a portfolio listing site? Or both? Let us know in the comments below!
Last Updated on August 18, 2022