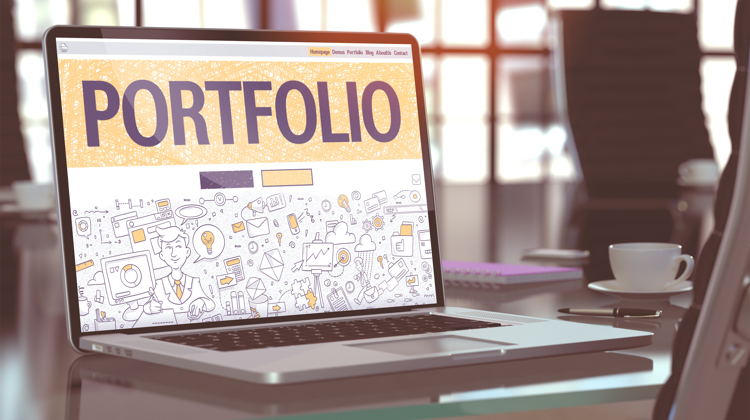 One of the most important things you need to do to build your copywriting career is putting together a copywriting portfolio. But where do you start? What do you do? How to you get samples? It's all here, so read on…
Today's question is from Kent A., who asks, "How do I put together a copywriting portfolio? I'm pretty new to this and I don't know where to begin."
Okay, so, this is obviously a pretty big topic, so I'll give you all of the steps, but won't include absolutely all of the details. There's a reason we were able to create a multi-hour course on this topic alone.
First, you'll need two types of portfolios, an online portfolio and a print portfolio. Your online portfolio is incredibly important, since this is what will demonstrate your copywriting abilities to people before they even meet you. It shows the proof of your skill.
Your print portfolio is what you'll bring with you to interviews and meetings with potential clients. You'll walk people through your work and have the opportunity to go deeper into your thinking as you created each piece.
Your first step for both types of portfolios is to amass any samples you already have. If you don't have any samples at all, don't worry, we'll deal with that in a moment. I want to mention this step, though, since you may not even realize you already have samples. If you had to do any writing of brochures or posters or even ads for any of your jobs, those count as samples—even if your title wasn't "copywriter."
Next, you'll need to start working with designers to create spec ads. Spec ads are ads that you create as if you were being paid by a company to create them, even though you're not. You'll go through the whole process of putting together a creative brief and working with a designer to make sure you have the best ads possible, but they won't really be used by the company you've chosen to create spec ads for. (And you also need to be sure to mark those ads as spec in your portfolios.) You'll find a few more articles about spec ads here, here, and here.

To create your online portfolio, you'll need to set up a website. (You can read more about why you need a separate website here.) This isn't nearly as hard as it sounds; there are several sites out there that make building a website a relatively simple, drag-and-drop process. Here are a few of them.
When you set up your website, you'll need a page for your samples, a description of each of your samples that explain what problem you solved for the company with your piece, your bio and, as part of your bio, your USP. A USP is crucial to helping you sell yourself to prospective clients or employers, so definitely don't skip that step. You can learn more about USPs here.
For your print portfolio, you'll need to print up any digital projects (in full color, of course), and amass any print pieces you have. (You'll need to scan or take pictures of any print pieces for your online portfolio, by the way.) Then, purchase a simple zipped portfolio case with archival pages that can easily be rearranged, since you'll want to feature different pieces for different clients/interviewers.
And that's it in a nutshell. Again, though, it's a lot to do, which is why our Academy members have found our step-by-step deep-dive courses on creating online and print portfolios so useful. If you're interested in learning more about our courses, you can find that info here.
Your turn! What do you think will be most challenging about putting together your portfolio? Let us know in the comments below!