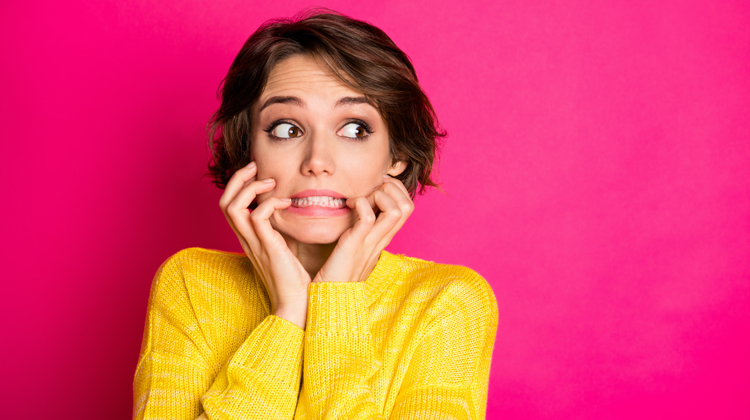 You already know that a portfolio site is essential for copywriters—no ifs, ands, or buts. (And luckily, there are plenty of sites that make creating your own site super easy. No sweat!)
And, writing your portfolio site is a copywriting project just like any other. You have a client (in this case, you), a target audience (potential clients and bosses), and a goal you want to accomplish (to get them to contact you).
But even knowing that, it's easy for a lot of copywriters to get overwhelmed with writing about themselves and make a few big mistakes on their sites. And, because I'd never leave you hanging, let's talk about what those mistakes are—and how to fix them.
The 4 Most Common Copywriting Portfolio Mistakes
1. No benefit to consumer.
It's one thing to know that every copywriting project needs to focus on the benefit…but it's another thing to remember to include it, especially on your own site. Your benefit to consumer—that is, how your copywriting benefits the people who will hire you—needs to be prominent.
Your home page headline, the first thing they see when they land on your website, needs to purposefully and powerfully convey your benefit to consumer.
And make sure you convey the END benefit. Sure a company wants its audience to "fall in love" with them…but what's the end benefit of that? What does a company REALLY want that copy to do? What's a company's main goal? (Hint, hint: Companies only exist if they make sales.)
How is your copy going to build that company and help it succeed? Remember, this site is all about conveying how your copywriting work will benefit a company and you are the right person for the job. You HAVE to tell them.
2. Your "About Me" page is about you.
I know, that seems a little silly. The page is called "About Me" so it should be about you, right? Nope! Remember the purpose of your website. Your "About Me" page is all about how YOU can benefit your clients. In reality, your About Me page is all about…them.
So your About Me page needs to help them understand why you are uniquely able to help them, and then explain exactly how to help them.
Start your About Me page with your USP, showing them exactly how unique elements from your background have made you an especially adept copywriter, and then follow that up with how your copywriting benefits their company.
Then, at the bottom, if you want to, you can talk about the extracurricular elements of your life to give them a feel for who you are as a person. But this all comes last—remember, About Me is about them.
3. No project descriptions.
Your copywriting work should speak for itself, right? Well yes…and no. Your copywriting samples (whether client work or spec work) should definitely demonstrate both your ability to write compelling, effective copy and your ability to collaborate with a designer.
But there's more to those pieces than just the results, right? There's all the thinking that went into it—and that can help demonstrate your value to potential clients even more.
Each piece in your portfolio should include background about the company/organization (who they are and what they do), the purpose and challenge of the project (what you were tasked with doing and why), and how you solved the challenge (the strategy you used to meet the goal).
You're pulling back the curtain to give potential clients insight into WHY you made the choices that you did and, thus, demonstrating the strategic thinking that's behind each project.
This holds true for spec pieces too, by the way. You filled out a creative brief and came up with a project yourself, but you still also used strategic thinking to meet those objectives. Just be sure, of course, not to write the description as if the company had actually asked you to do the work.
4. Too much education.
It's very tempting for copywriters to use space on their sites to educate visitors about why copywriting is important and valuable.
But let's think for a minute about the customer journey—about how a visitor actually gets to your site. Here are the possible scenarios: they arrived there because they interacted with you about copywriting and you directed them to take a look, they were referred there by a colleague or contact, or they searched for copywriters somewhere and found your site.
In each of those scenarios, the visitor knows what copywriting is and knows that they need a copywriter. You don't need to educate them about the value of copywriting—they already know it, AND you're wasting valuable copy when you could be selling them on why you're the right copywriter for the job.
No one's going to be stumbling onto a copywriter's website with no idea of what copywriting is, except maybe your grandparents if your mom has proudly passed along your URL. But your grandparents are not your target audience. (Much as you love them.)
By the time someone gets to your site, they know what copywriting is (either because they already knew or you made a compelling case for the service in a pitch email) and now they're evaluating whether or not to get in touch with you.
As with any other copy project, you need to carefully evaluate each and every single word to make sure it's essential and that it's doing the job you need it to do.
And here's a little bonus one:
If you have a blog on your site (which you don't have to), it needs to be geared toward your target audience, too.
That means it has to have posts with topics that are useful to prospective clients or bosses. Your travel diaries or musings about Netflix shows have no place on your professional site.
Remember, too, that some of your posts might talk about WHAT copy pieces are important and WHY, but never about HOW to write them. How to write them is what they hire you for. 🙂
Your turn! Did any of these trip you up on your own portfolio site? (There's no shame in it! I called them "common mistakes" for a reason.) And, if so, are you committed to fixing them asap? Let me know in the comments below.