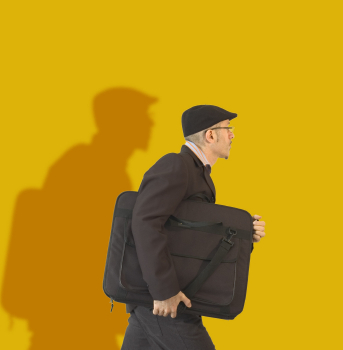 You already know that having an online portfolio is non-negotiable—if you want to be seen as a professional, you have to have a site to which you can direct prospective clients or employers. And you know that you need a bio, contact information and, of course, images of your work. But what else can you do to set your online portfolio (and yourself!) apart? Read on for one addition that could make a big difference…
Today's question comes from David R. who asks, "I have all the basics on my portfolio site, but is there anything I add? If I get a hiring manager to visit my site, I want to get them to call me!"
Let's get back to basics for a sec before I move into my suggestion. The A-Number 1 reason for your online portfolio is to sell yourself as a copywriter. Think of it as, essentially, an ad for yourself. Your site is the place to convey all of your benefits to consumer; that is, all of the ways you'll benefit a company.
To that end, your samples show prospective employers the kind of work you can do. And your bio is your opportunity to give them your USP and explain to them what sets you apart from all other copywriters. But that's only two places for you to describe your problem solving skills and give a little insight into the way you work and, aside from when you update your portfolio, those sections stay pretty static.
So I'm going to suggest one addition: a blog. Now wait—before you roll your eyes and leave the page, let me explain exactly why a blog can be an amazing tactic for getting prospective employers interested in you. A blog—and a blog with a very specific purpose—can give readers an insight into your mind and allow people to see how you think about advertising and marketing and the ways that you're invested in creating great copy, even when you're not working.
Your blog needs to be geared toward your audience of prospective clients and employers and the express purpose has to be to demonstrate your thoughts and insights about marketing and advertising. Don't post pictures of dinner, don't write about the latest episode of Game of Thrones, don't talk about your trip to Greece—unless they somehow relate to advertising, marketing and/or copywriting.
So what kinds of things should you post? When you see ads you like (or ads you don't like) post them and praise or critique them. What was done well? What could have been done better? (Just be sure to be kind and respectful; you don't want to rip apart ads from a company that might be interested in hiring you later.) Post thoughts about a project you're working on, being sure not to violate any NDAs. Post links to resources that you find insightful or interesting and then comment on them. You could start with articles like this or this and write about your thoughts on them; there are tons of articles on advertising marketing all around the web.
Then, just be sure to post regularly. You could set yourself the goal to post once a month, once every two weeks or even once a week. The most important thing is that you post according to a schedule and you keep your content fresh. After all, if a prospective employer gets to your site and sees that the last time you posted was three months ago, the message is that you don't keep your site updated, perhaps you're not thinking about marketing and advertising all that often, or, worst of all, that you're not really serious about your career.
Once you've uploaded a post, be sure to share it, too. Post it on LinkedIn, send out a link via Twitter and post it on Facebook (if you post professional messages there). All of this will just make it that much easier for hiring managers to find you. And then, once they find you, there's a treasure trove of insight into how your creative, professional mind works.
Your turn! Will you incorporate a blog into your portfolio site? What kinds of content will you post? Let us know in the comments below!
Last Updated on December 2, 2014 by Nicki Krawczyk