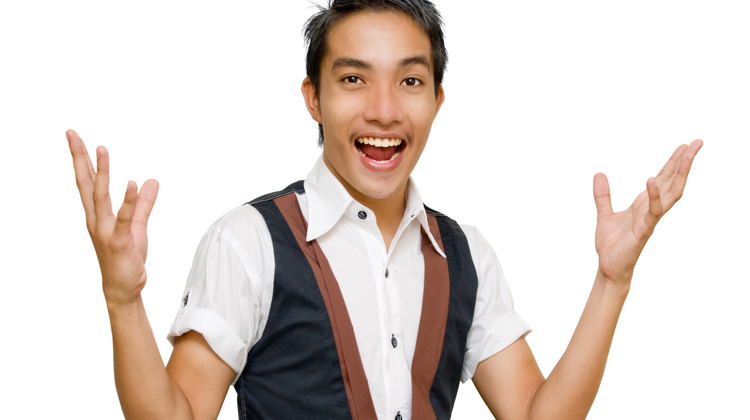 If you're someone who thrives off of interactions with people, how does the "sit alone and write your copy" lifestyle of the copywriter suit you? Good news: By following a few tips, it can suit you quite well. Read on…
Today's question comes from Eben H. who asks, "I love to write and I think I'm pretty good (with the potential to be better), but I also really consider myself an extrovert. I'm worried that sitting alone and writing all day long will make me miserable. Do you have any advice?"
A few weeks ago we discussed how to make a copywriting career work for introverts. Now, it's time to talk about how to do the same for the extroverts among us.
At first blush, any kind of writing can seem like a poor choice for an extrovert. After all, sitting by oneself and putting words together isn't much of a social effort. And it's very unlikely you'll be able to suss out the exact write combination of words in a line while also chatting with colleagues. By its nature, writing requires solitude.
Copywriting, however, is an interesting balance of solitude and socializing. Sure, you need to sit alone to write. But you'll also need to work with your design partner to concept and tweak your projects, and you'll work with stakeholders to kick-off and review projects.
Copy isn't written in a vacuum. Great copy requires the insight and feedback from a team of people and, while some of your job will involve sitting alone to process and utilize that feedback, a big part of your job will be collecting that feedback in person.
For the extrovert, the key is to make the most of your time interacting with people, but also to use your solitary time in a way that works for you.
How? Try doing your solitary writing work in spurts. Schedule yourself 15-30 minutes in place you won't be disturbed (maybe a conference room if your desk is in a high traffic area). When that time is up, head to the break room/kitchen to recharge with some human interaction.
Working in high-focus spurts should help you avoid the antsy feeling you may get when you have to work on your own for extended periods. Just be sure that when you do seek some human contact that you don't interrupt people in the middle of their work spurts—that'll make you unpopular pretty darn fast.
Everyone's different and copywriting isn't for everyone, but extroverts (as well as introverts) can absolutely make it a career that will work for them and experience some significant success.
Your turn! What tips do you have for extroverts? Let us know in the comments below…
Last Updated on December 19, 2022