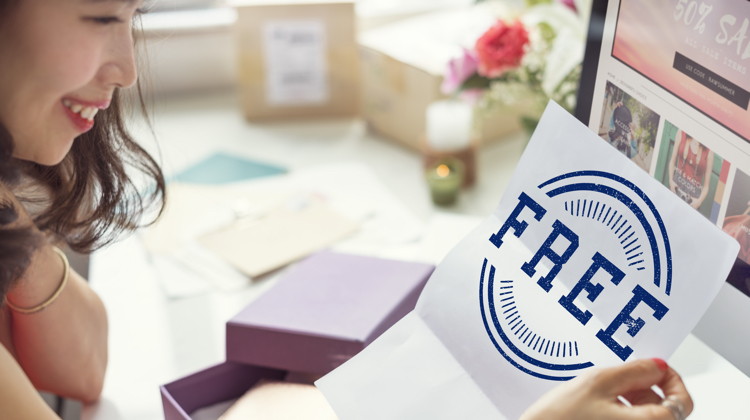 Free giveaways will always be a popular marketing tactic—and they can be a great tactic for your copywriting business, too. But before you jump in with both feet, you need to keep a couple of things in mind to make sure you're not giving everything away without getting anything (business) back.
Today's question comes from Candy C., who asks, "I'm in a small business group on Facebook and thinking of offering a free copy evaluation to try to drum up business. Does that sound like a good idea to you?"
The word "free" is one of the most powerful ones in the English language. People hear "free" and come running. So do I think this is a good idea? Short answer: Yes. Longer answer: Be sure to lay some ground rules and get prepared before you get started.
The first thing (and this should really go without saying but I'll say it anyway) is that if you're going to offer copy evaluations, you'd better actually know how to evaluate copy. If you don't already have a firm grasp on both the basic and advanced principles of copywriting, you shouldn't be offering evaluations. Your evaluation and recommendation could actually do damage to people's businesses. There are a lot of people out there trying to make money by doing things they don't know how to do. Don't be one of them.
Okay, that said, this can be a great way to drum up business.
The first thing you need to be sure of is that it's okay with the group to make that offer. Some Facebook groups have very strict anti-solicitation policies that could get your post deleted and/or get you kicked out of the group. If you're not sure, you can always reach out to one of the group's admins.
Second, you need to be very clear about what your offer actually entails. A "free copy evaluation" could have people expecting you to review all of their copy or expecting that you'll review it each time they do a rewrite or any number of things. It's a great phrase to get people's attentions, but you need to make clear exactly what your offer entails. A free, one-time, evaluation of their home page, perhaps?
Third, you may get a few bites, or you may get inundated. Just make sure to balance your paying work with this free work. If 75 people request free copy evaluations, you need to set your priorities (and boundaries) and give them a good idea of when you'll actually be able to get to the evaluation. Don't sacrifice the work that pays your bills for free work.
Keep an eye on how many requests you have coming in, too. It's very possible to get to the point when you have more requests than you can handle. When you get to the point that you've got all that you can deal with, either delete or update the post to let people know. You don't want to disappoint people or have them think you're trying to perpetrate some kind of scam. Be honest with people, and stay on top of the requests you've got coming in.
You need to also track the requests, the evaluations you've made, when you send them, and when you follow that up with a pitch to do work for them (if you send the evaluation and the pitch separately). Trying to field and answer the requests without tracking them will be a nightmare.
Be prepared, too, for exactly how you'll pitch yourself. Just because someone loves your evaluation and thinks you're a genius doesn't mean they'll take the next step and ask you to rewrite their copy for them. It's up to you to ask for the sale.
And remember that even though you're giving a valuable service away for free, you'll still get plenty of people who won't opt to work with you after you evaluate their copy. It's unfortunate, but it's how selling works.
A couple of final notes for once you begin your evaluations: Be gentle and diplomatic. Often the copy you will evaluate will have been written by the prospects themselves (or at least have been commissioned and approved by them), so you don't want to rub them the wrong way by tearing it apart. You can make critiques and still make them nicely.
Remember that your evaluations should have the end goal of getting you work. So you can tell them what to do ("Your benefit needs to be more prominent in your copy. Your headline should include how you save people money.") but you shouldn't be rewriting any of their copy unless they agree to pay you for it. It's easier to get conned into doing free work than you realize — don't let it happen to you.
Your turn! Have you offered a free copy evaluation? What was your experience? Let us know in the comments below!
Last Updated on November 14, 2022