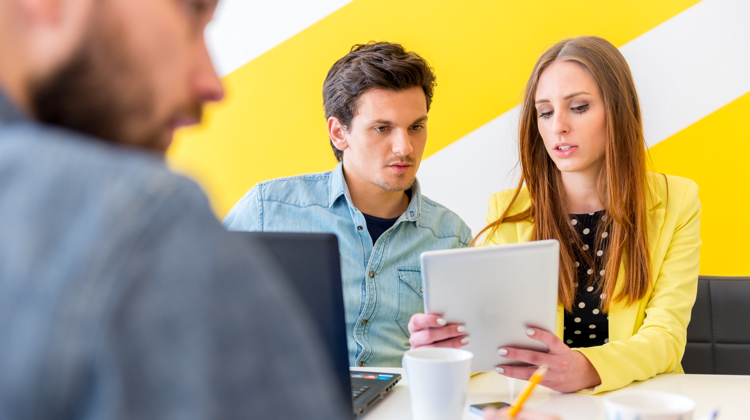 Creative reviews strike fear into the hearts of many copywriters. It's not always the most comfortable thing to present your work to a roomful of people. But what if I told you there's a secret to feeling much more sure and prepared? Well there is, and it's comin' right at you. Read on…
Today's question comes from Gabriel B. who asks, "I hate to admit it, but I get intimidated by creative reviews. Do you have any tips for how I can psyche myself out a bit less?"
It's completely natural and normal to be intimidated by reviews. After all, you slave away on a project only to present it and get feedback on it…live…and in public. And, of course, you can't know what kind of feedback you get. (If you did, you'd have already incorporated it, right?)
But there's one way to prepare yourself for whatever they throw at you. Ready for the secret? Simply, it's to be prepared to explain every choice you made.
You need to be able to explain why you chose "and" instead of "but," why you put a detail in the subhead instead of the head, why your body copy starts with a question… All of that. Everything.
But that's not all that difficult! After all, every element of your copy is deliberate. You put thought and strategy into every word, word combination, and punctuation choice.
This strategy and these deliberate choices are part of what make you a good copywriter; there's nothing haphazard or random or unplanned in your copy.
You have a reason for every choice you made. So, be prepared to explain each one.
When someone in the review asks you why you did something, be able to tell them. Or, more likely, when someone gives feedback that an element doesn't seem quite right, explain why you did it the way you did.
Now, your explanation might not be enough to win the discussion, but it creates a dialogue. Explaining why you made the choices you did demonstrates both your skills and professionalism. It shows that you put a great deal of thought into your work. And it also allows you to talk with people in the room as equals and collaborators.
A creative review isn't a firing squad; it's a committee of people getting together to help create a piece. Being prepared to explain the work you've done in any detail necessary just establishes you as an important and respected part of that collaboration.
Being prepared to discuss your work gives you the certainty to answer any questions or concerns and that automatically gives you much more confidence as you go into each meeting. The key to feeling better about going into reviews? Be prepared.
Your turn! How do you prepare for creative reviews? Let us know in the comments below!
Last Updated on December 15, 2022