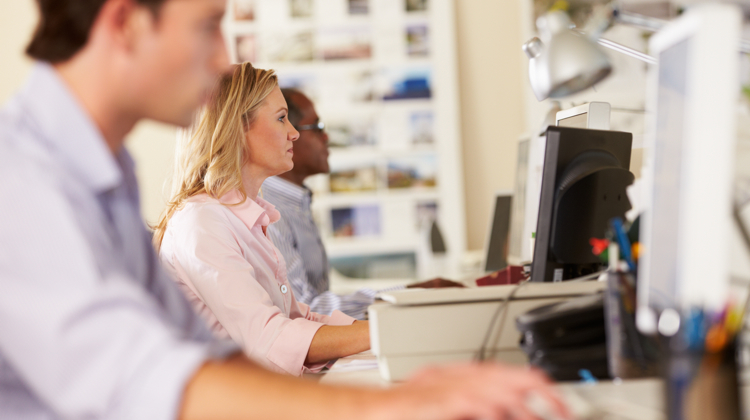 Often, one of the biggest surprises for new/aspiring copywriters about in-house agencies…is that in-house agencies actually exist. "You mean there are even more places to work than just ad agencies?" Indeed, I do. Let's talk all about 'em today. Read on…
Today's question comes from Colson J. who asks, "I've heard you talk about 'in-house agencies,' but what does that mean? What's it like to work in one?"
An "in-house agency" (or "internal agency") is the creative team within a company that creates work for that company. (This is, of course, opposed to a creative team outside of a company that creates work for them. That'd be an external agency, often referred to as an ad agency, marketing agency, etc.)
Most medium and large companies have some size of in-house agency and many smaller companies do as well—which means that there's a lot of internal agencies out there and a lot of opportunity for a copywriter looking for a job!
At an in-house agency, obviously, you're only ever working on that company's work. That said, though, some companies have multiple brands. For example, when I worked at TJX, they needed creative for their brands including T.J.Maxx, Homegoods and Marshalls. At that company, it was big enough so that each one had its own internal creative team, but some companies with multiple brands have just one internal agency to service those brands.
So, what I'm saying is that you work on just your company's work, but that might be somewhat varied if your company has multiple brands or sub-companies.
One of the great things about working at an in-house agency is that you get to know your brand incredibly well. In many cases you'll be responsible for maintaining brand guidelines and, often, even creating them. People always look to the copywriter for the right way to say things, the right way to refer to things, the right way to capitalize things, etc. If there isn't a tone and brand guide when you join them, it's up to you to create it.
You also get to work very closely with the people requesting your work. In an agency environment, this would be the external company that's hired you. But in an internal agency, this is often people from the Marketing or Brand department. You both work for the same company so, in many ways, you're on the same team. You can get together with them to talk through ideas and get their input before you go too far down a path.

At the same time, though, it can be challenging to work so closely with the "client." Just because you're on the same team doesn't mean you always agree. When you work at an external agency, you can have a bad meeting with a client and then go back to your company and the client goes back to theirs. At an internal agency, you can have a bad meeting and you each go back to your desks…just a few feet away.
While there's a bias in the creative community to think that ad agencies work faster and more creatively than in-house agencies, that's really not true at all. There is a lot of exciting, dynamic work being done at in-house agencies and, yes, sometimes the deadlines are tight.
You get just as much of a sense of camaraderie with your coworkers at an in-house agency as you do at an ad agency and you can take just as much pride in your work. I'm sure you've heard me say it before, but the best resumes and portfolios have variety. If you have the opportunity to work for an in-house agency, whether on staff or as a contractor, I strongly recommend you give it a shot.
Your turn! Have you worked for an in-house agency? What were your experiences?
Last Updated on August 27, 2014 by Nicki Krawczyk