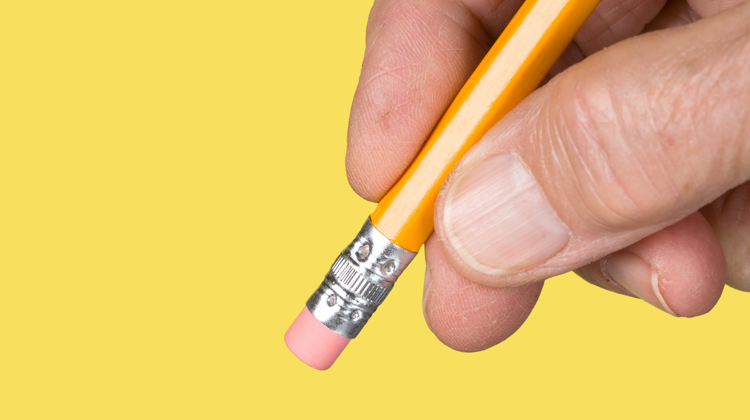 I get this question a lot—"how many rounds of revisions do I give my client?"—and I understand the thinking behind it.
People are worried that clients are going to "take advantage" of them and request round after round after round of revisions until it's perfect.
But here's the thing: Our copy is supposed to be perfect. (Or, at least, as close to perfect as it can be.) It's supposed to dazzle and thrill our clients.
So the answer to "how many rounds of revisions" is really:
**As many as it takes to make sure your client is happy.**
You write it 'til it's right.
Because that's our job. We don't deliver half-ass copy. We deliver excellent copy that our clients are delighted with. Anything short of that is unacceptable. 
And I'm going to say something that's going to shock you:
**If your client wants many, many, many rounds of changes, in 99% of the cases, that's your fault.**
Whoa! Harsh! I know—but you also know that "harsh" is not my style, so stick with me.
The vast majority of the time (if not all of the time), the cause of multiple rounds of revisions can be traced back to not starting the project correctly.
After all, WHY do multiple revisions happen?
(And to be clear: One or two rounds of revisions are completely normal. It's a collaborative process and you need those rounds to refine the message. When I say "multiple" I mean three or more rounds.)
Multiple revisions happen because your client felt that you missed the mark somewhere. Maybe it's in the message, maybe it's in the tone, maybe it's in the focus—there are plenty of places. But you're having to revise it so many times because you're off the mark somewhere.
And WHY would you be off the mark somewhere?
Because you didn't start out with clear enough input.
Before you even begin to THINK about writing, you and your client need to sit down and get 100% clear on the key elements of the piece that you'll be creating.
You need to be clear on the benefit to consumer, who the target audience is, what they want and need, what your client's goal is for the project, what they want the target audience to do, where the target audience has been in the customer journey before this, where they're going afterward, what their objections to taking the action might be, how those objections can be overcome, what information the target audience needs about your client… And so on.
You need to be clear on the scope of the project—EXACTLY what it entails.
And you and your client need to see and understand all of this exactly the same way. You need to completely get your client's perspective and you need to completely understand every angle of the project.
If you have any questions about any of this or aren't clear on anything, you need to ask your client. You can't write a project if you don't completely understand it.
And yes: You need this information for EVERY. SINGLE. PROJECT. Even the little ones!
If the project is smaller, the answers to all of these questions might not be as long, but you still need to know the answers.
When you completely understand the project and all of the objectives—and when you and your client are on the same page—the project goes much smoother and you avoid the multiple revisions.
But here's another key:
**Your client doesn't know to give you all of this information. YOU have to ask.**
Remember, you're the copywriting professional! Your client may never have even worked with a copywriter before. And, even if they have, it's not their job (or their expertise) to guide the process.
It's up to YOU to collect the information you need to write the project well—it's not up to your client to read your mind and know what you need to know.
Sooo…(back to that tough love here)…if you don't collect all of that information you need and, as a result, your client needs multiple revisions…the fault is yours.
But, that's a good thing! It means that you have the power to make sure this doesn't happen in the future!
Your client should be absolutely delighted by your work at the end. (Or at least pleased.) And that means that you offer as many rounds of revisions as it takes to get there.
BUT when you start the project off the right way, you get all of the information you need at the beginning (and continue to ask questions as needed), and you ensure you and your client are on the same page, that automatically means that your revision cycle is likely to be limited to just one or two.
So the question shouldn't be "how many rounds of revisions do I offer?" That's not even really a question.
The question should be "how can I best set up this project for success and, as such, limit the rounds of revisions my client needs?"
And the answer? Well, see above. 🙂
Your turn! Did all of this make sense to you? Did you have any epiphanies or revelations? Let me know in the comments below!
Last Updated on February 24, 2022 by Craig Galo