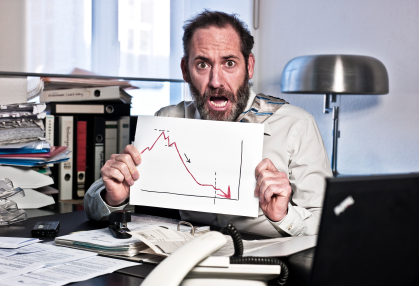 Do the words "fiscal cliff" and "economic trouble" fill you with fear? Take heart, copywriter—you're better set up than most…
Today's question is from Brandon H., who writes, "I really want to get into copywriting, but don't companies tend to cut back on advertising and marketing when the economy isn't great? I don't want to put time and money into something that isn't going to get me any work."
Good question, Brandon. Before we get into my answer to your question, let me preface it with a bit of my own experience so you know this isn't just speculation, or salesmanship. It's always smart to be thinking strategically about your career and career options, especially when the economy is uncertain. (I would suggest, though, that the economy is always uncertain. How many people thought the economy was booming right before the dotcom bubble burst?)
But I can honestly tell you that the first time I really hit my own, significant fiscal peak was during the most recent recession several years ago.
Here's the thing: There is always copywriting work to be done. Sometimes, like when the economy is "shaky", it's more of a challenge to find than at other times. But, during those times that it's harder to find, more people give up on finding it—meaning that there's actually less competition!
There are only ever so many people who will make the effort to go out, actively look for work, be extra-helpful to clients and go beyond the usual customs of professionalism. Do this, and there's work for you. I promise.
Also, I'm a big proponent of "back-pocket skills." These are the kinds of abilities that you're trained to do, but you might not use every day in a professional capacity. If you're not ready to move into copywriting full-time, this could be the route for you. Back-pocket skills are the skills that you can reach in and pull out when you want to make a little (or a lot of) extra money.
They protect you from financial problems because you know you always have something to fall back on if your main job goes sour. Think about it: The people who always suffer worst from economic downturns are those who only have one skill set and need to rely on a large company to employ and pay them. Back-pocket skills are fiscal insurance, and copywriting could be one for you.
I'm not dismissing concerns about the economy—everyone has a right to be concerned about whatever they want to be. But I am saying that your livelihood and career success are controlled much more by you than by anyone else.
Your turn! Have concerns about the economy changed how you approach your copywriting career? Why or why not? Let us know in the comments below!
Last Updated on December 2, 2014 by Nicki Krawczyk