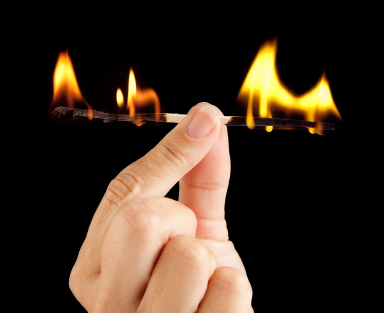 In a creative profession like copywriting, it's very easy to succumb to burnout. It's that feeling of being utterly unable to do any of the work you need to do and, as you can imagine, it's dangerous for both your overall well-being—and your career.
Today's Copywriting Q&A is inspired by a question from Rachael H., who asks, "I seem to have hit some kind of wall lately. I can't get excited about the work I need to do. How can I power through it?"
Well, Rachael, I strongly suspect that you've burned yourself out a bit. The bad news is that "powering through it" is the absolute last thing you should do. The good news is, I've got some advice to help you work through it and prevent it from happening next time.
First of all, let's talk about how burnout happens. You're chugging along just fine, doing your work as always, maybe taking some extra projects on and then…you start to slow down.
It gets harder to get yourself to sit down and work. Finally, you hit a point where you'd rather stick a fork in your eye than do the work you've got to do. In extreme cases, your body might even shut down a bit and you're faced with illness or extreme fatigue. How did you get here?
Most likely, it resulted from one of a few factors: you pushed yourself too hard, you took on too much work, or you did too much repetitive work for too long without a break. (Yes, you can get repetitive work in the copywriting field, too: Product descriptions, while a great gig, can get repetitive if the products are similar and you have a lot of them to do.) Burnout happens when your brain and body start fighting back against all of the demands you're putting on them. And how do they fight back? They shutdown.
And because they're so exhausted, "powering through" is the worst thing you can do to try to remedy your burnout. When you're running low on gasoline in your car, you don't drive further, faster or harder—you pull over and refuel. That's exactly what you need to do when you're burned out: You need to take a break. (Emphasis on "need".)
Do something that doesn't involve writing—listen to music, take a nap, go out for lunch with a friend—anything to give your brain time off from copywriting. Well, not anything; I actually don't advocate watching TV as a burnout solution. It tends to turn your brain to mush instead of offering relaxation and recovery.
Once you've recovered, you have to make sure you're watchful for burnout in the future. Not only is it difficult for you to go through, but it puts your career at risk: If you can't get yourself to write, you'll miss deadlines, turn in sub-par work and disappoint your clients. Definitely things you want to avoid, right?
Here are the top tips for protecting yourself from burnout in the future:
1. Schedule breaks.
If you're facing a long project, make sure you take the time to actually schedule periodic breaks. It can be tempting to push yourself to motor though and finish it all in one fell swoop, but your work and your well-being will suffer.
2. Evaluate each new project to make sure you really can do it.
I know: It's hard to say no to new projects. Who doesn't like getting paid? But, at the same time, you have to make sure that you truly have the capacity to take a new project on.
If you're overloaded and facing tight deadlines, it's probably not the best time to take on another project. Sometimes you just have to turn work down.
3. Take up a new hobby.
Many copywriters are also creative writers on the side. That's great, but creative writing isn't going to offer your brain enough of a respite after a long day of churning out copy.
Pick up a hobby that stretches your brain in a different way: things like painting, learning an instrument or playing a sport give your brain and body a break verbal challenges.
Your turn! How do you protect yourself from copywriting burnout? Or how have you saved yourself when you've succumbed? Let us know in the comments below!
Last Updated on December 2, 2014 by Nicki Krawczyk