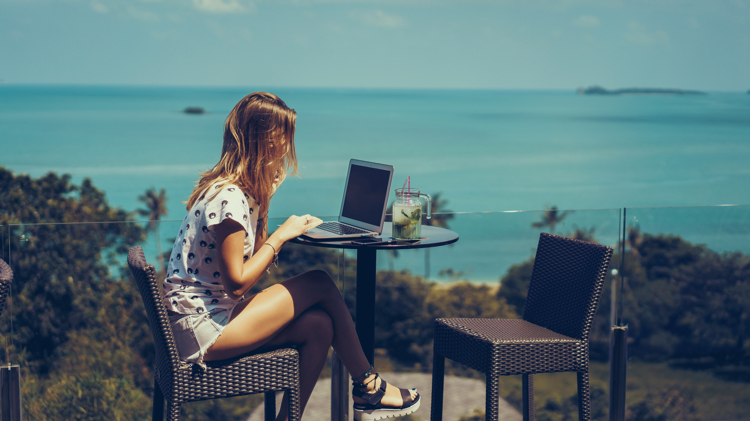 Become a digital nomad—someone who travels the world, but works while they do it—is becoming a more and more common goal for copywriters. But making it work isn't quite as simple as packing up your computer and hopping on a plane. Today, we're going to talk about important tips to help make sure you can make it work. Read on…
Today's question is from Emma V., who asks, "My goal to is to build my business so that I can become a digital nomad in six-to-nine months. Do you have any tips for when I'm ready to go?"
There are a lot of terrific things about being a copywriter—fulfilling work, a creative outlet, a great income—but one of the best is that it can be very flexible. Many people don't have the kind of career that lets them work from home, much less work overseas.
Recently, the Filthy Rich Writer team experimented with spending a few months working remotely. While I loved living in Panama, Costa Rica, and Nicaragua, it wasn't just like working in Boston.
Here are a few tips to help you make the most of living and working overseas, no matter where you choose to work:
1. Line up as much work as possible in advance. This may seem obvious, but bear with me. It's always more easy to find work when you're willing to periodically go into a client's office. Not being able to do that is going to naturally limit your pool of potential clients. You also need to line up as much work in advance before your trip for the same reason: Some people may be comfortable with you working remotely—but they want to work with you first.
2. Be honest with your clients. If a client asks where you are or whether you can meet with them, it might be tempting to tell them a little white lie. But that's never how you should work with your clients and, as long as you make it clear that you're working a normal schedule and you're still just as available to do work, you should tell them that you're working remotely. That said, though, there's no need to volunteer the information unless it will affect how you work with your clients.
3. You need WiFi and phone access at all times—and in multiple ways. Even if you're booking hotels or houses with Wifi, you need to have a global Wifi device. (I used this one, but there are others.) Even when a rental says that it has WiFi, you can't count on it being good Wifi. Also, you need Wifi that isn't attached to the home's power source in case the power goes out. Similarly, your phone needs to work overseas, but you also need to be able to use Skype as a backup.
4. You need to stay somewhere that offers some privacy. Whether you choose to book hotels, home rentals, or one of those coliving/coworking spaces, you need to make sure you have some space that offers quiet and privacy. You can't take calls—or write great copy—if you have lots of noise in the background.
5. You need access to friends. Whether you're traveling alone or with someone, you still need more friend outlets. Hostels and coworking/coliving places can be great places to meet people, but they aren't everyone's style. If you're going to be overseas for a while, spread the word to family and friends and invite them to visit you. They'll need to understand that you'll have to spend some parts of every day, but having friends in town will help you avoid homesickness and feeling like you're so separate from the people you love. Even if friends or family can't visit you, make time for phone calls at least a few times a week.
There are plenty of other things to think about when considering working overseas, but these are logistics you've got to nail down—well before you leave.
Your turn! Have you ever worked overseas? Do you have any other tips to offer? Let us know in the comments below!
Note: This post contains affiliate links.
Last Updated on May 11, 2021 by Nicki Krawczyk