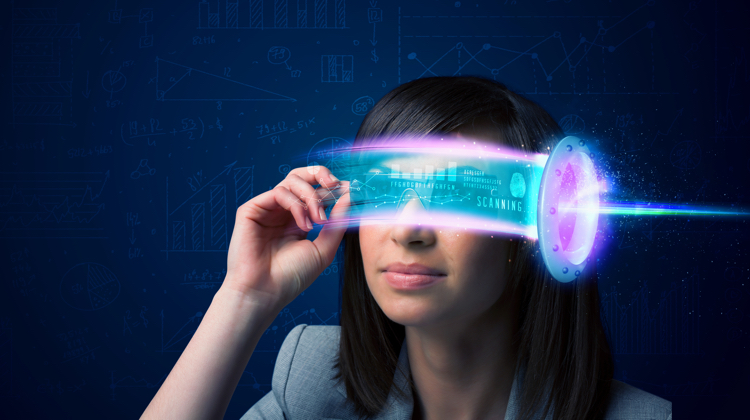 Time and technology move fast, and people who are getting into copywriting now might be wondering what the future holds for them. Want a little peek into the future? Read on…
Today's question comes from Marcius Q. who asks, "I think I'd like copywriting, but I want to be in it for the long haul. I know you can't tell the future, but what do you think are some things that are going to change?"
This is a great question. And I'm going to start off by addressing kind of an underlying issue, and that is whether or not copywriting will still be around in the future.
I've covered that in this post, but let me summarize that and just say: Yes, it will. The creative class, and the language-based creative class, particularly, is not going anywhere. (Check out the article for more details.)
So, beyond that, let me go ahead and pull out my crystal ball. Well, really, it's less of a crystal ball and more educated guesses based on where I see the industry and technology going, and how they're likely to meet up.
There'll be more digital collaboration. Technology has made major strides in letting us collaborate with each other over the last few years, but things are going to get even better.
Sure, right now you can see the same screen from two locations, but what about being able to simultaneously edit what you're working on? Or have an instant transcription of your concepting process? Or sketch your thoughts on any surface (or lack thereof) and have them instantly saved, sent or rendered? The future is exciting, people.
There'll be better ways to translate copy. Right now, translation programs are pretty basic. They generally can't account for context, colloquialisms, or a number of other idiosyncrasies across languages. And human translation can be good, but it's expensive and time-consuming.
Well, it's not going to be long before translation programs get smart enough to factor in context—and continue to learn the more they translate. A banner ad you write in English could be translated to Dutch and pushed live in Holland in a matter of moments.
There'll be more ways to reach people with your copy. The Apple watch is just the tip of the iceberg. For better or for worse, there are going to be more and more ways for advertising to reach people. Think: Eyewear (Google Glass or better), ads to provide free Wi-Fi anywhere in the world, ads in entertainment while your car drives you to work.
But more ads isn't necessarily a bad thing, because…
You'll be better able to tailor your copy to people. Big Data is just the beginning. Companies are collecting data on what people do and what they're interested in and what they want, and that's going to allow you to write copy that is more targeted and more helpful than ever.
Now, we often have to blast our message to a wide audience, hoping to hit our exact target audience as part of it. Eventually, we'll be able to hit our target audience with much more precision. That family that just had a premie baby and now needs a special car seat but doesn't know where to look? You'll be able to help them by targeting your message to them—and technology will be better able to reach them.
It's a bold, exciting future! As with any developments, there can be downsides, but it's part of our jobs to make sure we use our copywriting powers for good. Here's to change!
Your turn! What do you think will be some developments in copywriting over the next 10 or 20 years? Let us know in the comments below!