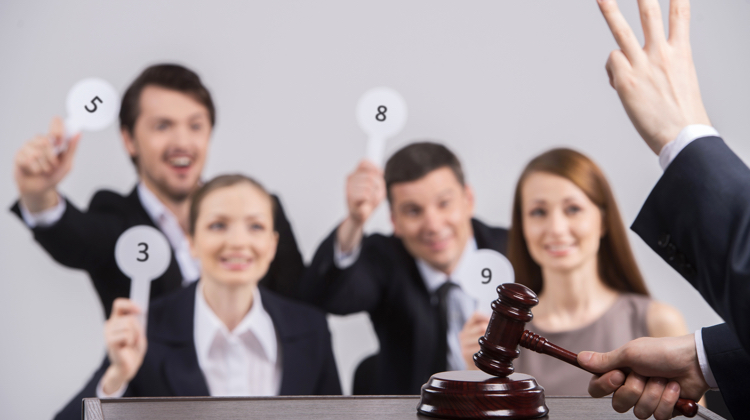 Those freelance bidding sites where you can submit quotes on copywriting projects seem like a great deal. You get to just scan through listings, submit a quick proposal and quote to potential clients, and land tons of work. Great, right? Wrong.
Freelance bidding sites are great for clients … and a waste of a good copywriter's time.
How Freelance Bidding Sites Work
First, let's make sure we're on the same page and recap exactly how these sites work for copywriters. Say Client X wants some copy written for his website. The client writes up a brief description of the work, possibly mentions the project budget or hourly rate, and then posts the job listing to the website.
From there, the copywriters on the site read the listing, write their own proposal of why they're best for the job, and submit that along with a quote for the work.
At first blush, this can seem like a great deal for copywriters. After all, why go out and prospect for work when you can just troll these sites and pick up jobs that people are already looking to fill?
But if it sounds too good to be true, it probably is. After all, if it were that easy, why would anyone ever leave the house? Ad agencies and in-house agencies would be scrounging for copywriters, desperately trying to compete with these bidding sites. And…that hasn't happened.
Why Freelance Bidding Sites Are Terrible for Copywriters
Freelance bidding sites are not nearly as easy as they seem. First, for every copywriting job that gets posted, you're competing with dozens of other writers for that job.
And how do you compete for it? You spend some of your own (unpaid) time to write up a proposal for work that you may not get.
Then, on top of that, Client X is on this site because the client is looking for the best quality copywriting … for the cheapest price. If you really want to get that work, you have to spend the time to write up a great proposal and slash your rates to undercut all of the other copywriters. (Check out this post for some of the math on freelance bidding sites.)
So, worst-case scenario, you waste time writing proposals for work you don't even get. (Time that could be spent prospecting for other work.) Or, best-case scenario, you get work—for much less than your standard rates. You end up working for cheap instead of working for the rates you should be commanding.
Sites like these have a bevy of copywriters signed up to try to win work because it seems like the "easy" way to do it. (And most people really like easy.)
The Smarter (More Lucrative) Way to Land Freelance Work
If you really want to get work, get paid well, and build your portfolio, the exact worst route to go is the (so-called) easy route. You'll have much more success by reaching out and prospecting for clients. You'll face less competition, you'll get far more clients who are looking for quality copy instead of cheap copy, and you won't have to slash your rates to get work.
To use an analogy, it's like The Bachelor and The Bachelorette TV shows. On freelance bidding sites, you're like any one of the women (or men) vying for the Bachelor or Bachelorette's attention. The odds are not in your favor. It's one client with any number of freelance copywriters (plus, freelance bidding sites make it so easy for clients to look around!).
But when you take control and send clients wildly effective pitches, you're like the bachelor. You're one person with any number of potential clients that you can pitch! (With the added bonus of an online portfolio that shows your work, not the work of hundreds of other copywriters!)
Now, it's your career. If you really want to give these kinds of sites a try, that's up to you. But if you really want to build your portfolio and make good money, "easy" and—ahem—lazy—sites like these aren't where you're going to find your success. Start prospecting and start truly building your career.
Watch More
Want more insight into why copywriters (and freelancers in general!) should stay away from job bidding sites? Watch the video below to hear Nicki and Kate break down the ins and outs of these platforms, plus the far more effective way to land work (and get paid what you're worth!).
Your turn! Have you tried any of these freelance bidding sites? Let us know about your experience in the comments below!
Last Updated on May 2, 2022 by Kate Sitarz