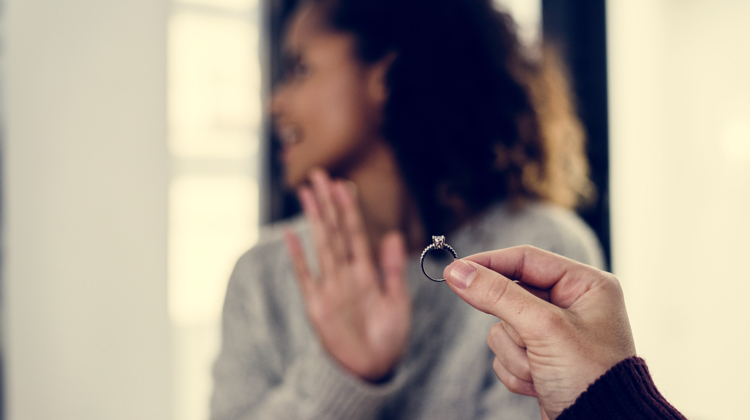 Let me ask you something: If you went on a first date and, as soon as you sat down, your date asked you to marry them…would you do it?
Of course not! You don't know them!
Okay, another question. This time, it's still your first date, but your date makes you sit and talk with them for four hours—then they ask you to marry them. Still no?
In the first scenario, it's just too soon to make that kind of commitment! You don't know them and you certainly aren't ready to sign up for everything they entail.
In the second scenario, you'd likely be overwhelmed by them making you chat for four hours. You'd know more about them, but it's still too soon to make that commitment.
A relationship needs to be nurtured.
And, in the same way, a relationship between a company and possible customer needs to be nurtured.
The equivalent of proposing marriage in the first few minutes of a date is a company telling you to "buy, buy, buy" as soon as you come across them. Doesn't work.
And the equivalent of that marathon of chatting before the proposal? That, my friend, is an online sales letter. And those don't work either.
In the early days of the internet, pretty much everything was fresh and new. All of the techniques that are so common today—email marketing, opt-in freebies, content marketing, paid advertising—all of that didn't exist yet.
One tactic that did exist was online sales letters: They were single, looooong pages of copy, (often including different fonts, different colors, and highlighting to call out points) in which a company would try to tell you everything you possibly needed to know to make a sale. And then, at the bottom of the page, they asked for the sale.
And you know what? Sometimes they worked—because, again, everything on the internet was a novelty. People could be persuaded to spend a half hour reading an online sales letter and then might even be willing to make the purchase. (IF the sales letter was written well. And IF they cared enough about the product.)
But…do you really think people are willing to spend a half hour reading through a sales letter anymore? And are they really likely to purchase as soon as they come across a company?
No way! The internet and the internet experience are totally different today.
Online sales letters are a throwback to when people were entranced with the newness of the internet and had plenty of time and attention to read a sales pitch.
What's even crazier to me is that there are still companies out there telling people that if they learn to write online sales letters, they'll get rich! Let's be clear: No one uses online sales letters anymore.
So, what do they use? Well, we talked about how a relationship needs to be nurtured, and that takes both attention and time.
Instead of trying to pack all relevant information—pain points, context, benefits, features, testimonials, case studies, company history, pricing, guarantees, etc.—into one web page, it's immensely more effective to space them out.
Enter: Email sequences. (Also called email funnels.)
Email sequences are a series of emails that convey all of this information to prospective customers, but over a series of days, or even weeks, instead of in one single page.
They allow for the building of a relationship between the company that's sending the emails and the person that's receiving them. They allow for the growth of liking and trust toward the company, and they establish the company as experts, and as the exact right provider of the exact right solution.
Now, that's a pretty tall order, right? (And don't forget that each and every one of these emails has to also be valuable to the reader.) But all of that is what makes them effective—and the challenge of conveying all of that is why most companies are smart enough to hire a copywriter to do it for them.
There are also all kinds of other elements that can be layered into an email sequence, things like videos and downloads and webinars and challenges, all of which can further deepen that relationship.
But the key is that getting a sale—building the kind of relationship that makes a sale almost inevitable—takes time, takes care, and takes authenticity. And that's what we can offer our clients in the form of well-strategized, well-crafted email sequences.
Your turn! Have you ever even seen an online sales letter? What about email sequences—what good ones have you received? Let us know in the comments below!