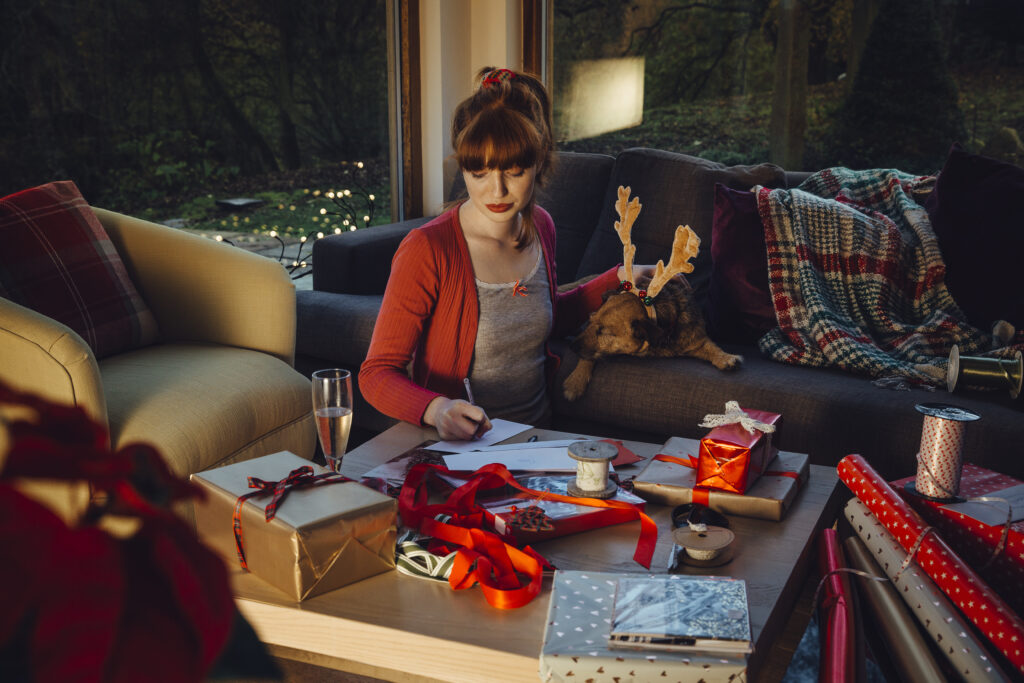 As you start putting together your copywriting business/career plans and goals for next year, this is also a great time of year for looking backward just a bit. You need to reach out to past copywriting clients.
While, yes, it's important to find and land new clients (and you'll do plenty of that in the new year), it's even easier to get more work from previous clients.
We've given you tips for how to reach out to and re-pitch past copywriting clients (check those out here and here), but sometimes even just popping up on their radars again can be enough to spur an idea for a project.
At the same time, too—and, arguably, maybe even more importantly—this is also just a great time of year to extend some genuine goodwill and gratitude.
Before December winds down, take some time to make a list of all of the clients you've worked with this year.
Then, send them a short (but personalized!) note thanking them for working with you and wishing them a great new year.
If you have notecards you can send, great! But even emails will do. The important thing is that you take the time to send them.
Maybe this will lead to more work right away, maybe it'll lead to more work down the line, or maybe it'll just lead to good feelings in your professional network. No matter what, there's no downside, right?
If you haven't yet landed any clients, you can still send warm wishes to any new contacts you've made throughout the year. Everyone likes to be remembered, appreciated, and wished well.
Email Template You Can Use to Wish Past Copywriting Clients a Happy New Year
OK first things first: you're a copywriter. Use your skills to personalize a message to your clients wishing them a great start to the New Year. That said, here's a very, very rough template that you can use as a starting point.
Dear [insert client name],
Thank you again for trusting me to partnering with you on [insert name of project(s)] earlier this year. It was such a pleasure working with you and your team, and I can't wait to see what results we can achieve in 20XX [insert upcoming year!].
I hope you have a great holiday season and that you and your organization has a fantastic start to the new year.
Looking forward to connecting soon,
[insert your name]
Email Template You Can Use for a Free Marketing Strategy Session
Dear [insert client name],
I hope you had a fantastic start to the new year!
I wanted to check in and see if you'd be interested in a review of your current marketing, including:
Your marketing goals for the year
How you plan to achieve those goals
Projects coming up
This is a free marketing strategy session I offer to previous clients to help you get set up and ready for a successful new year. Are you available next [insert date] for a quick chat?
Talk soon,
[your name]
How to Get More Work from Past Copywriting Clients All Year Round
You land a client, you do the work, you do the revisions, you send the invoice …and you never talk to them again. Or you do—but only if they reach out to you later. Does this sound like you?
Don't be that copywriter.
One-and-done is never a great strategy for a business, but it's one that many copywriters adopt.
It's both faster and easier to get more work from previous clients than it is to find new clients. So it makes the most sense for your business to create a plan to generate more work from past copywriting clients.
The process for doing this is relatively simple: six months to a year after you wrap up a project with a client, reach out to them again and offer to set up a strategy call.
Use the same template above, adjusting the language based on when you're sending it.
On this call, you can talk to them about ideas for email campaigns/funnels, website additions, advertising, or any other marketing project to help drive their business forward. They get the benefit of talking ideas through with a professional, and you get the benefit of potentially generating new work.
Now, obviously, not every one of your past copywriting clients will want to set up a call, and not every call will lead to more work. But this is a great way to keep yourself on your previous clients' radars, and a great way to easily generate work.
Watch More
The end of the year is extremely busy for most people. So, if you fall into the I-can't-wait-to-slow-down-and-breathe camp, then it may overwhelm you to think about sending previous clients and contacts a New Year's note.
Reconnecting with these folks can really show how much you value working with them. Here's what you need to know if you can't send a note or email before January 1.
Your turn! What's your system for reaching out to past copywriting clients? Let us know in the contacts below!
Last Updated on November 14, 2022