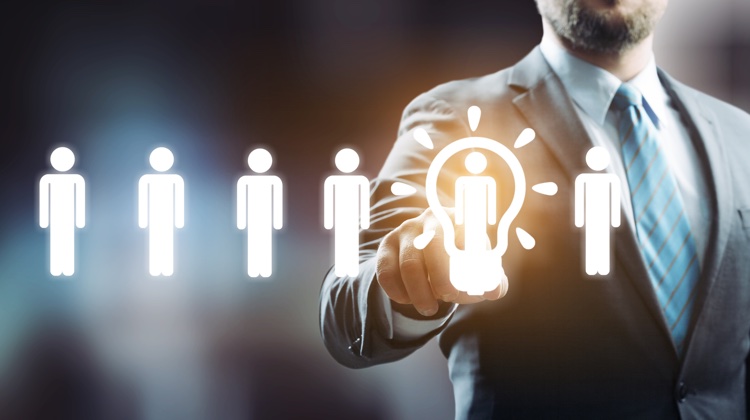 When you're looking for copywriting work, recruiters can seem like the magic bullet—after all, they're in business to get you work! But there are a few things you should know before you put your fate in their hands…
Today's question comes to us from Aaron G., who asks, "I want to start looking for a new job. Should I be calling recruiters?" This is an important question for copywriters and, really, any professional. Before you get involved with recruiters, you should know what you're signing up for.
Now, recruiters can be great because they might help you to get your foot in the door. If you're a good candidate for a position and they have a real relationship with the company that's hiring, they can send over your resume and get you in front of important eyes. However, bear in mind that they're also sending over other resumes, as well. And, depending on the size of the company, they may be sending over your resume and online portfolio URL to the HR contact they have instead of the actual hiring manager. (So if you have plans to really wow a creative director with your work and a custom-printed portfolio and anything that goes above and beyond, you won't get that opportunity if that's the case.)
Recruiters can also be aware of open roles that aren't even public yet. Sometimes, a company can choose to work with a recruiter instead of listing  a job to the world to avoid a deluge of unqualified applicants. If you're not working with this recruiter (or if this recruiter doesn't contact you), you'd never be aware that the opening existed.
There are a few other things to consider, though. A recruiter's job is to place people in jobs or freelance gigs. They are paid by the company that needs the role filled once they successfully fill it. If they fill a full-time role, they're generally paid in a lump sum and if they fill an hourly role, they get paid for each hour the person works. This is an important thing to remember as you start working with recruiters: They can be an asset for you, but they are working for the company. They don't work for you.
Sure, they can "work for you" in the sense that when you get listed with them, they will try to fit you into some open roles, but they are not actively seeking the right role for you. They are filling the roles that become available and/or that companies hire them to fill. It's up to you to ascertain what's the right role for you. In fact, you may find that if a company wants you and you're not sure if you want to accept the role, a recruiter may, not so gently, try to push you into taking the role. Remember, they get paid when they fill the position. And they want to get paid!
Also, because recruiters work for the company, you may find that they're all hot and heavy about getting you to send in your resume to them so they can offer you up for a role, but then you never hear from them after that. Don't take this personally; it's just how it works. If a company isn't interested in you for the role, it's a very rare recruiter indeed that will bother to let you know.

You should also be aware, too, that you can't apply at a company on your own and then have a recruiter apply at the same company for you if you find out they have an "in." A company has no use for a recruiter (and paying the recruiter's fee) if they can get you on their own, so the recruiter won't resubmit your application. As a professional courtesy, you should let a recruiter know which companies you've already applied to.
Also, recruiters may try to keep your hourly rates relatively low so that they can make a higher fee on top of it. Think about it: If a company is willing to pay $60 an hour total, a recruiter would rather pay you $40 and keep $20 than pay you $50 and keep $10. You may have to draw a hard line about how much you're willing to work for—there's almost always room for them to make the numbers work.
So what's the final verdict? In my opinion, you should work with recruiters, but don't make them your only resource. You need to be pursuing other avenues to get work (networking, contacting previous coworkers, applying to jobs in unconventional ways, etc.) instead of solely relying on recruiters. They can be great and they can get you work, but use them as a tool, not as a life raft. You can, and should, apply to multiple recruiters, as well. Any recruiter who requires an exclusivity clause prohibiting you from working with other recruiters should be avoided like the plague. They're working with other applicants, you should be able to work with other recruiters!
Your turn! Have you worked with recruiters before? What did you learn from the experience? Let us know in the comments below!
Looking for work? Here are more tips:
Copywriting Q&A: How to Avoid the Job Seeker's #1 Enemy
Copywriting Q&A: 5 Reasons You're Not Getting Called Back
Copywriting Q&A: How to Set Yourself Apart from Your Competition
Copywriting Q&A: Why Work Bidding Sites are Bad News
Copywriting Q&A: The Biggest Print Portfolio Mistake
Copywriting Q&A: Why You Need an Online Portfolio
Last Updated on March 21, 2022 by Nicki Krawczyk