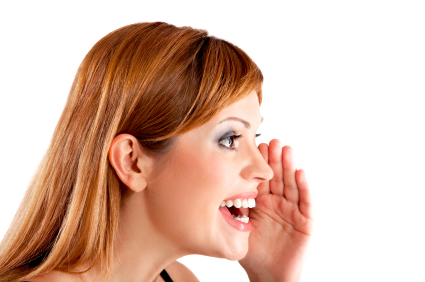 Today's questions comes from Erin R., who asks: "What does CTA refer to?"
Great (and important) question, Erin. If you haven't yet, you'll probably see "CTA" all over creative briefs and project outlines. CTA stands for "call to action" and refers to the copy you use to tell the reader what you want them to do next.
Calls to action are always commands and, thus, always begin with verbs. Depending on the project, a call to action might be "Sign up now for our newsletter!" "Like us on Facebook" or even just "Buy now."
Every single piece of copy you write has to have a next step for the reader to take. (We're writing the copy for a reason, right? We want the reader to buy the hand towel, sign up for the course or watch the video–depending on the project, of course.) The call to action tells the reader what step to take next and how.
And, by the way, each call to action implies what's going to happen for the reader when they take that action. If they click on your "Buy now" button, the should be taken to the web page where they can actually buy now. If you're encouraging them to sign up for your newsletter, the next click had better take them to a place where they can do that. And if you're telling people to come into the health club and sign up for the raffle, it had better be pretty clear where that raffle is, the second they walk in the door.
Last Updated on August 10, 2014 by Nicki Krawczyk