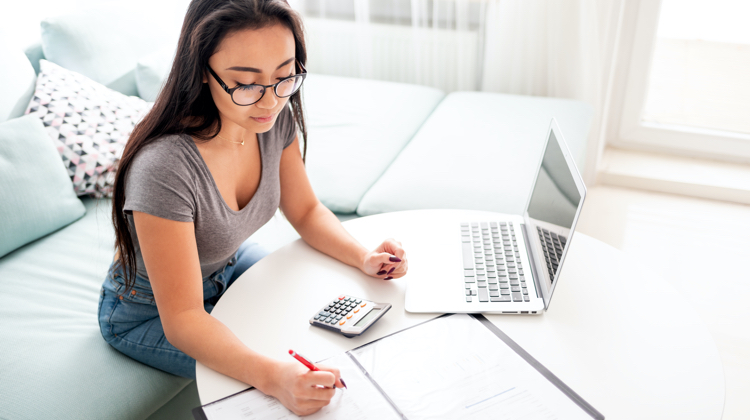 They say that it takes money to make money…but that's not always true. Case in point: Your copywriting business.
Now, it goes without saying that you need training in order to work as a copywriter. You have to know how to actually provide the service you want to provide, right?
And you also know that it's a specialized form of writing that's very different from any other one. Copywriting is a career and, like any other career, it requires training. So let's agree on that and move on.
Beyond the training, are there all kinds of extra costs you'll need to pay? Home office requirements? Multiple software subscriptions? Professional fees?
Nope!
Really, there's only one essential cost: The cost of setting up and hosting your portfolio website. And guess what? That should only cost you about $15/month using a website builder such as Squarespace, Wix, or Virb.
Beyond that, it's not a terrible idea to also have some business cards so that you can hand over your contact information when you meet potential clients out and about, but online printers like Moo.com and Vistaprint.com make them very affordable.
What about invoicing software or scheduling software or a dedicated business telephone number or video conferencing services?
My philosophy and my very strong recommendation to you is that unless you are COMPLETELY positive that an expense is going to pay for itself and then some, you don't need it.
You do not need a dedicated phone line. You do not need a cute desk lamp. You don't need scheduling software.
And, yes, you do need some video conferencing capabilities – but Skype is free and the base level of Zoom is free. You don't need to pay for it.
And you don't need invoicing programs, but if you really, really want to use one, there are plenty of free options. And, for that matter, there are even free levels of scheduling programs if you want them.
Don't let the idea of all kinds of extra expenses keep you from pursuing a copywriting career because none of those expenses (again, except for your website) are necessary.
Maybe, eventually, once you're earning plenty of money from your copywriting business you might see a need for upgrading to a paid version of your video conferencing platform or any of those other things I mentioned. But you don't have to.
And you definitely don't need them now.
For more on the cost to start a copywriting career, listen to this podcast episode >>
Your turn! Have you been tempted (or…distracted?) by "essential" purchases that aren't actually essential at all? Let me know in the comments below.
*Psst: This page contains a Squarespace affiliate link and purchases you make through it will help support our company. Just so you know.
Last Updated on May 12, 2022 by Nick Olds