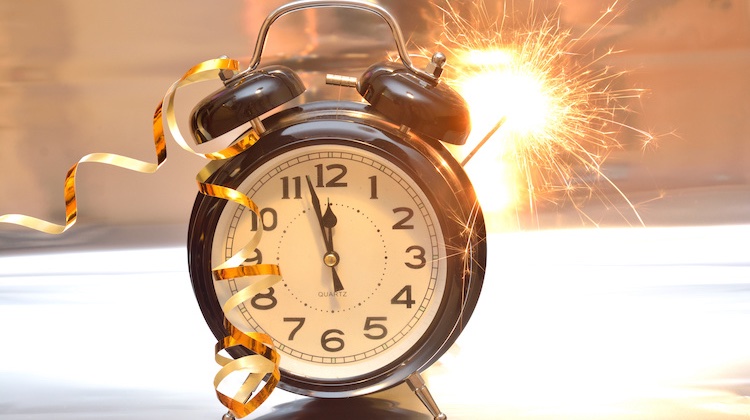 It's the time of year when everyone starts thinking about resolutions. And contrary to all of the experts and articles that say that "resolutions don't work," I remain firmly in the pro-resolution camp with one major caveat: you need to choose resolutions that you can actually make happen.
So, with that said, let's talk a little about career resolutions for the new year.
Now, obviously New Years' resolutions are very personal and it's definitely not going to work for me to prescribe them for you. That said, I have a few suggestions that you might find useful as a starting point for your own. All of these are designed to either improve your career, stoke your creativity, or both.
1. Invest in yourself.
Whether it's time or money, invest in improving yourself, gaining new knowledge, and/or building new skills. That may mean purchasing a book (and making the time for yourself to read it). It may mean attending a conference you've been eyeing for years that will allow you to network with other professionals. It may be finding a course that lets you hone your skills in a specific area you're interested in.
2. Don't settle for a crappy job.
Life is too short to spend 40+ hours a week doing something you hate. If you don't like your job, resolve to do something to change it.
Now, that may not mean quitting your job on January 1st. But, it may mean coming up with an exit strategy. Can you start building up freelance work on the side? Can you look for a new job? Commit to taking daily actions that will help you execute this plan.
3. Figure out what you really want to do.
Make this the year you figure out what you would actually enjoy doing.
That may mean both what you're opting to do career-wise, but it may also mean where you're living, how many hours you're working, and how much income you really need/want to make to do what you want to do.
Dip your toes into new things. Explore new facets of something you're currently doing. Take strategic risks.
4. Plan a trip to somewhere new.
Get yourself out of the house and into a new environment, whether it's a day trip to a town you've never seen before or a couple of weeks in a new country.
Taking some time off is critical to recharging and being as productive as possible.
5. Revamp your resume.
Groan, groan; I know, working on your resume isn't fun. But it's crucial and it needs to be ready in case the perfect opportunity comes up.
Even if you've got a ton of clients, there's nothing worse than revisiting a resume that's five, ten, or more years old. Keeping it relatively up-to-date each year makes this process a lot less painful.
6. Build or refresh your portfolio site.
If you haven't yet, now is the time to finally put together your copywriting portfolio site. If you have built it already, resolve to improve it. Our portfolios are our calling cards as copywriters. It's what can determine if a client wants to pursue a conversation with us or find another copywriter. So, take some time to really refresh your portfolio (and schedule time to revisit at least each year, if not more often).
7. Make 5 new contacts each month.
Get out there and network! Attend events, ask for introductions, or connect with people via LinkedIn.
(Reminder to Comprehensive Copywriting Academy students: there's an entire course about who to connect with and how to connect with them!)
8. If you're unhappy, change something.
This is broad, but sometimes it needs to be. Identify something you're not happy with in your life…and do something to change it.
Start by writing one thing that is making you unhappy. Then, make a list of the factors that are contributing to this feeling. It may not be a long list, but look over and start with one contributing factor and write out a list of possible solutions to address this factor. Systematically do this and you will start to see a difference.
9. Read at least one new business book each month.
There are a ton of great ones out there. Don't miss Influence: The Psychology of Persuasion by Robert Cialdini while you're at it.
You can find all of our team's favorite book recommendations right here. Bookmark it so you always have a handy reading list and make sure you stay on our email list so you can get our team's latest recommendations!
10. Get listed with 5 recruiters.
Call or email them and get on their list. You want to be one of the ones they call when work comes in!
Recruiters often work with companies to fill both full-time and contract and freelance roles, so no matter what way you want to work, it helps to connect with them. It's also like having an extra set of eyes on opportunities; often recruiters know about opportunities before they're listed to the public.
You can find recruiters at major recruiting companies, but also look for recruiters who are local to your area and running their own business.
11. Try something new at least once a month.
From trying a new coffee shop to giving hang gliding a whirl, challenge yourself to shake things up.
You may even implement this in your business. Is there a process you're following that feels like it could be improved? Try changing one step in that process and seeing if it streamlines it. If not, that's OK! Or try pitching a new industry. Working with another client in technology (even though the other technology client you worked with wasn't your favorite).
12. Find a way to streamline at least one task in your life.
From getting groceries delivered or hiring a cleaning person to outsourcing your research tasks or joining a carpool, find a way to make something you don't enjoy a bit easier for yourself.
Start with a list of all the tasks that you would love to save time on or eliminate. Then, go through and pick the one that is the biggest pain point or the one that is easiest to offload immediately. Make a list of steps you need to take to make that happen.
13. Join an industry meetup group or attend an industry event.
You can't meet new contacts unless you go where they are. Join groups and attend events. You can make contacts in virtual groups but, if possible, attend one in person. There are more chances for spontaneous conversations and encounters.
14. Learn something—anything!—new.
How to speak Portuguese, how to make risotto, how to change your car's oil: There are unlimited things you could learn. Pick one.
Have a list of things you've always wanted to learn by haven't? Pinpoint why that is. Often, it's because it seems too daunting. Start small. If it's a foreign language, download a free app and start building in five or ten minutes a day to practice. Break that large learning goal into smaller, bite-size learning goals.
15. Add a blog to your portfolio site.
Set a goal to write at least once per month about your thoughts on current ad campaigns, industry trends, or copywriting work that you've done. Then, as you get going, push yourself to publish a post every other week.
A blog can help you attract potential clients to your site and give them more reasons to come back. To remain consistent in your posting, consider coming up with your content plan for a month or two in advance and schedule your writing on your calendar. Treat it like the project that it is!
16. Revamp your social media profiles (and check your privacy settings!).
Make sure your Facebook, Pinterest, Twitter, Instagram, and any other social media profiles say that you're a copywriter. Then, too, check your privacy settings to make sure you only share exactly what you want to share.
If you don't have separate business and personal accounts, now may be the time to consider it. If you're adding a blog to your site, consider how you can promote the content you're creating across your social channels. Schedule those posts out in advance just as you are with your blog writing.
17. Send out one thank you note a month.
You can think of at least someone to thank for something each month. Send them a short handwritten note to convey your gratitude.
This doesn't have to be a client, but it can. While the New Year is a great excuse to send a note, you can also thank the client when you send your invoice, noting anything in particular about the project that you particularly enjoyed or any stellar employees that you got to work with on the project that you want to call out to the team.
18. Create something.
Build a model airplane, write a play, build a table, paint a landscape: Add something new to the world.
For many copywriters who also love to write fiction, poetry, nonfiction, and other forms of creative writing, that may mean carving out some time to actually devote to that idea you've been sitting on. Consider combining it with resolution idea #4: plan a trip somewhere and devote a day to your creative writing project.
19. Stop watching one of your regular television shows.
Chances are, there's at least one that you don't even really enjoy all that much and you just watch out of habit. A half hour show takes up 26 hours of your life each year and an hour show takes up 52 hours. Find something better to do with that time (every resolution on this list is another way to fill that time!).
20.
.
Pick up a book by an author you've never read before and give it a go. This may fit in with resolution #1 (invest in yourself), but it doesn't have to. Whether it's nonfiction or fiction, pick up a book from a new author that may give you a different perspective or offer a different approach to help break out of the that's-how-I've-always-done-it mentality.
.
Spec ads are essential, especially when you're just starting out. Also essential? A network of designers. The more designers you know, the more designers you'll have to partner with for your ads (and who may potentially refer you to clients down the line).
Even if you're working as a copywriter, consider the designers in your network. When was the last time you reached out to them? Are they still designing? Could you use a few new designers in your network? (Hint: the answer is yes!)
22. Update your LinkedIn profile.
Go through and freshen up your bio, change your profile title, add pieces to the portfolio, and make sure it puts your best foot forward.
For Comprehensive Copywriting Academy students, this is a good time to watch (or rewatch!) the LinkedIn bonus course.
Cooking requires a very different type of creativity than writing does. Stretch yourself by picking a recipe and giving it a try.
This will also force you to build more time in your schedule to tackle it, giving you some much-needed time away from the screen.
Sometimes you just won't be able to get past procrastination. When that happens, make sure you have a list of productive or creative things you can do instead of the work you're putting off.
When the urge to scroll (and scroll … and scroll …) on social media strikes, that can trigger you to get in the habit of looking at your list and seeing if there's something else you can do that's more productive, but gives your brain a break from what you're currently working on.
You're a good person. You're trying to be a better person. You care about other people and you're trying to lead the best life that you can. Sometimes, you need to get off your own back and appreciate yourself and the things that you do.
Consider starting a wins journal (or wins notebook or Word Doc—however you want to refer to it). Include any milestones you reach, both big and small. Include client feedback. Add compliments a friend or family member gave you. When imposter syndrome strikes or you just need a boost, flip back through.
Your turn! Do you have any resolutions for the coming year? Let us know in the comments below!
Note: This post contains affiliate links.
Last Updated on May 12, 2022 by Nick Olds