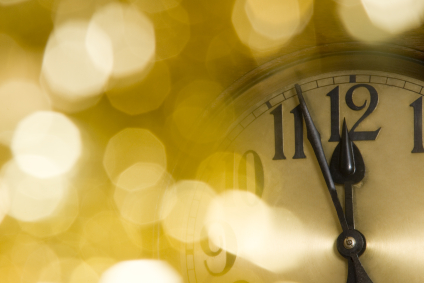 It's the time of year when everyone starts thinking about resolutions—and contrary to all of the experts and articles that say that "resolutions don't work," I remain firmly in the pro-resolution camp. Resolutions work if you choose resolutions that you can actually make happen. So, with that said, let's talk a little about career resolutions for the new year.
Now, obviously New Years' resolutions are very personal and it's definitely not going to work for me to proscribe them for you. That said, though, I have a few suggestions that you might find it useful to pick and choose among. All of these are designed to either improve your career, stoke your creativity, or both.
1 Invest in yourself — Whether it's time or money, invest in improving yourself, gaining new knowledge and/or building new skills.
2 Don't settle for a crappy job — Life is too short to spend 40+ hours a week doing something you hate. If you don't like your job, resolve to do something to change it.
3 Figure out what you really want to do — Make this the year you figure out what you would actually enjoy doing for a living. Dip your toes into new things.
4 Plan a trip to somewhere new — Get yourself out of the house and into a new environment, whether it's a day trip to a town you've never seen before or a couple of weeks in a new country.
5 Revamp your resume — Groan, groan; I know, working on your resume isn't fun. But it's crucial and it needs to be ready in case the perfect opportunity comes up.
6 Build your portfolio site — If you haven't yet, now is the time to finally put together your copywriting portfolio site. If you have built it already, resolve to improve it.
7 Make 5 new contacts each month – Get out there and network! Attend events, ask for introductions or just email people via LinkedIn.
8 If you're unhappy, change something — This is broad, but sometimes it needs to be. Identify something you're not happy with in your life…and do something to change it.
9 Read at least one new business book each month — There are a ton of great ones out there. Don't miss Persuasion by Robert Cialdini while you're at it.
10 Get listed with 5 recruiters — Call or email them and get on their list. You want to be one of the ones they call when work comes in!
11 Try something new at least once a month — From trying a new coffee shop to giving hang gliding a whirl, challenge yourself to shake things up.
12 Find a way to streamline at least one task in your life — From getting groceries delivered or hiring a cleaning person to outsourcing your research tasks or joining a carpool, find a way to make something you don't enjoy a bit easier for yourself.
13 Join an industry meetup group or attend an industry event – You can't meet new contacts unless you go where they are. Join groups and attend events.
14 Learn something—anything!—new — How to speak Portuguese, how to make risotto, how to change your car's oil: There are unlimited things you could learn. Pick one.
15 Add a blog to your portfolio site — Write a post at least once every two weeks about your thoughts on current ad campaigns, industry trends or copywriting work that you've done.
16 Revamp your social media profiles (and check your privacy settings!) — Make sure your Facebook, Pinterest, Twitter, Instagram and any other social media profile highlights that you're a copywriter. Then, too, check your privacy settings to make sure you only share exactly what you want to share.
17 Send out one thank you note a month — You can think of at least someone to thank for something each month. Send them a short handwritten note to convey your gratitude.
18 Create something — Build a model airplane, write a play, build a table, paint a landscape: Add something new to the world.
19 Stop watching one of your regular television shows — Chances are, there's at least one that you don't even really enjoy all that much and you just watch out of habit. A half hour show takes up 26 hours of your life each year and an hour show takes up 52 hours. Find something better to do with that time.
20 Read a book by a new author — Pick up a book by an author you've never read before and give it a go.
21 Meet three new designers to work on spec ads with — Spec ads are essential, especially when you're just starting out. The more designers you know, the more designers you'll have to partner with for your ads.
22 Update your LinkedIn profile — Go through and freshen up your bio, change your profile title, add pieces to the portfolio and make sure it puts your best foot forward.
23 Learn to cook something new — Cooking requires a very different type of creativity than writing does. Stretch yourself by picking a recipe and giving it a try.
24 Create a list of procrastination tasks — Sometimes you just won't be able to get past procrastination. When that happens, make sure you have a list of productive or creative things you can do instead of the work you're putting off.
25 Give yourself some credit — You're a good person. You're trying to be a better person. You care about other people and you're trying to lead the best life that you can. Sometimes, you need to get off your own back and appreciate yourself and the things that you do.
Your turn! Do you have any interesting resolutions for the coming year? Let us know in the comments below!
Last Updated on August 31, 2021 by Nicki Krawczyk