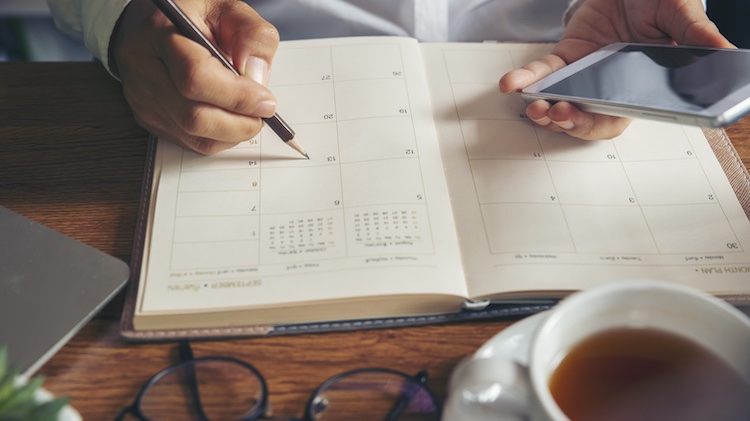 The first week of January always has the excitement that comes with fresh starts. We have an entire year ahead of us to take action on our goals. There's so much opportunity!
To commit to making the year ahead the best one yet for your copywriting business, let's lay a foundation for taking action on our goals. After all, even if we just spend five, 10, 30 minutes each day on our businesses, we will make progress.
So, with that, I'd encourage you to make these commitments, for yourself and your business.
Commit to Doing ONE Thing Each Day That Will Move Your Business Forward
I know, that sounds wildly unreasonable, right? But I don't mean "I will make my entire portfolio today!" I mean one step that will help you make progress on moving your business and career forward.
If you're like me, you make a to-do list for Monday that is impossible to get done. Having one task that is your main goal for the day means you are focusing on what matters most.
How to do it: Schedule time for a daily planning session
Spend 15 minutes or so each morning planning what you need to tackle that day. During this mini planning session, ask yourself, "what is one thing I can do to move business forward?" Make that your number one priority.
During your daily planning session each day, ask yourself "What is the ONE thing I can do today to move my business/career forward?" and then make that your day's number one priority.
Commit to Working When You Work Best
Not everyone is at the top of their writing game between 9 and 5. We've grown so accustomed to the 9-to-5 lifestyle, but, especially when you're a freelance copywriter, you can work when it works best for you.
For example, I do my most creative work in the early morning. I save admin tasks and meetings for the afternoon when I am not at my most creative. That way my clients get the best work and I'm not constantly pushing against a cement wall trying to write copy when I'm just not at the top of my game.
How to do it: Evaluate your energy
We don't have access to equal amounts of energy and creativity throughout the day. Take some time to figure out when YOU are most energetic and creative and schedule your most high-impact (or most creative) work then.
That may mean tracking your time for a couple of weeks (yes, weeks!) to figure out what works best for you. And then, reevaluate it at least once a year, if not once a quarter. The way we operate—and our energy levels—can and will change!
Commit to Believing in Your Success
No matter what goal you've set for your business, it is possible. It CAN be done. And if it is possible, then you can achieve it. That doesn't mean it will be easy or that some tasks you need to complete will push you outside your comfort zone. And some things may take more work or longer hours than others. That is inevitable. But it is doable.
How to do it: Make these vocabulary swaps
My challenge to you is to strike "I can't" from your vocabulary. Get rid of "I'm not smart" or "I will never be like those copywriters" or "What if I'm not good enough/anything enough."
Any time you feel a negative thought coming, swap it with "I know that some of this will be hard, and I'm in a challenging part right now, but I can and will do it." Make it a habit of saying "It can be done. And if it can be done, I can do it."
Repeat after me, "Some parts of this will be hard, but I CAN DO IT."
Learn more about the subtle mindset shift that will double your income >>
Commit to Being Perfectly Imperfect
This goes along with that last one. Committing to the fact that you can do it is a big deal, but that doesn't mean that your inner critic, or the voice of your Resistance, is going to quiet down. In fact, it might even get louder.
While we can swap negative thoughts for positive ones (we all have a loud inner critic!), that doesn't mean resistance is going to completely go away. Like a river, resistance will find another path to take. Equipped with that knowledge, you can better prepare when your inner critic continues to pop up.
But remember too that no one is perfect. As much as you may see other copywriters or other professionals in general that have it all together, know that we're all battling inner critics.
How to do it: Take action
Comparison doesn't help us achieve our goals. Action does.
EXPECT to hear from your inner critic and know that it's part of the process. And, every time you hear it, literally respond by saying, "I hear you, but I know it can be done. And if it can be done, I can do it." Truly, the more you make this a habit, the faster your life will change.
Commit to Doing the Work
Sometimes our motivation to work toward what we want (more flexibility, time with family, income, etc.) is strong enough to overcome any doubts or energy lags. Sometimes it's simply not.
As humans, we move toward things we want and away from things we don't want. Sometimes the drive to move something that we want is strong enough to get us to take action ("I want a career I love! I want to make a great income! I want flexibility!") and sometimes it's not.
How to do it: Explore the consequences of not doing the work
When you feel those moments where you're dragging your feet (and they will happen!), take time to think through what happens if you don't do the work. For example, "I'm going to do some online shopping and then I'll get back to this project." Or, You know what? I'm going to go easy on myself today. I'm going to watch a little Netflix instead."
Suddenly, three hours have gone by and you haven't made any progress.
So, when you're tempted to skip the work, explore what the consequences of that action will be. What does skipping work mean?
It means spending more time where you don't want to be, whether that's in a career that drains you or doesn't value you. It means money will be tighter for longer. And it means you'll be exhausted and frustrated by your job for longer. By skipping the work, you're CHOOSING all of those negative consequences. 
Instead, when you commit to doing the work, you're choosing the positive outcomes: a job you love, hours you choose, income you can control.
Commit to Checking in on Your Goals
Writing down your goals is a great first start. After all, so many people simply carry their goals in their head. Answering these questions is a great place to start:
What is your goal for your business?
How much do you want to earn this year?
What do you want your working days to look like?
What do you need to do each month to get there?
How to do it: Add time to your calendar
Really. Add time to your calendar. Right now. Make a note each month or each quarter (we recommend more frequent check-ins when you're just starting out) to check on your goals and reevaluate them. Do you need to adjust goals? Write some new ones since you accomplished yours already?
It's much easier to course correct if you identify challenges before they become an insurmountable problem.
Watch More
While the New Year is a natural time to reflect on your business goals for the year ahead, it's always a good time to check in on your business and strengthen its foundation. From scheduling regular check-ins with yourself on your goals to exploring what those goals are in the first place, Nicki and Kate are digging into how you can set your business up for success.
Your turn! Will you commit to doing any of these things in the new year? If so, which ones? Let us know in the comments below!
Last Updated on November 30, 2022