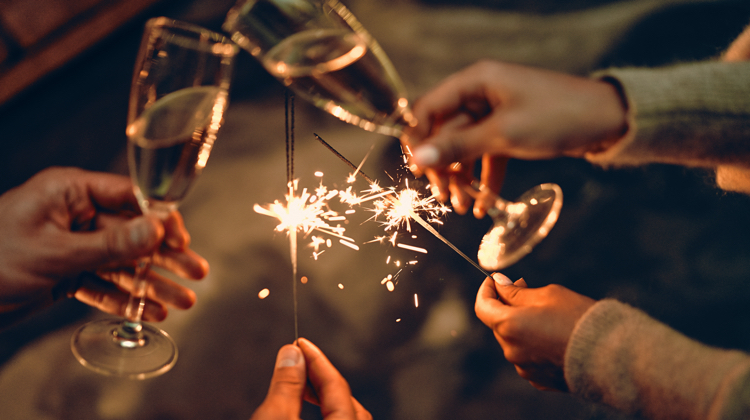 Okay, let's face it: It's not going to be hard to beat 2020. Even if you were lucky enough to avoid the illness and catastrophe that some people faced (and even if, like many of our students, you actually made a lot of progress on making your dreams come true)…2020 was still a rough one.
Globally, I think, we're all tentatively optimistic that 2021 will turn things back around. But I also think that's a lot of hoping and wishing for external forces to make our lives better. Personally, I firmly believe in being proactive, doing the best that I can, and celebrating the wins, big and small.
And if 2021 turns out to be pretty good as a whole, then more's the better. 🙂
So, I'd encourage you to join me and to commit to making 2021 as good as it can be. And there's a strong possibility that if you really commit, do the work, and follow these steps, it can be one of your very best years yet. Ready? Let's dig in:
Schedule time for a daily planning session.
Set aside 15 minutes at the beginning of every workday. It'll help you get clear on where you are, what you've done, and what you need to work on next. This, alone, is a huge game-changer. And, of course, actually schedule it on your calendar each day or you'll forget about it.
Ask yourself this question every morning.
During your daily planning session each day, ask yourself "What is the ONE thing I can do today to move my business/career forward?" and then make that your day's number one priority.
Evaluate your energy.
We don't have access to equal amounts of energy and creativity throughout the day. Take some time to figure out when YOU are most energetic and creative and schedule your most high-impact (or most creative) work then.
Commit to knowing that you CAN do it.
Look, whatever your goal is with your business, it CAN be done. And if it's possible, then you CAN do it. Sure, some things will be harder than others and some things might take more work or longer hours than others, but it's POSSIBLE. So drop all of the "What if I'm not good enough/smart enough/anything enough" and just commit to knowing you CAN do it. Repeat after me, "Some parts of this will be hard, but I CAN DO IT."
Commit to countering your inner critic.
This goes along with that last one. Committing to the fact that you can do it is a big deal, but that doesn't mean that your inner critic, or the voice of your Resistance, is going to quiet down. In fact, it might even get louder. So EXPECT that. EXPECT to hear from your inner critic and know that it's part of the process. And, every time you hear it, literally respond by saying, "I hear you, but I know it can be done. And if it can be done, I can do it." Truly, the more you make this a habit, the faster your life will change.
Explore the consequences of not doing the work.
As humans, we move toward things we want and away from things we don't want. Sometimes the drive to move something that we want is strong enough to get us to take action ("I want a career I love! I want to make a great income! I want flexibility!") and sometimes it's not. When it's not, it's time to also really think through the consequences of not doing the work. For example, some days it's easy to say, "You know what? I'm going to go easy on myself today. I'm going to watch a little Netflix instead." And that seems reasonable until you go back and realize how much time you've devoted to Netflix instead of to your business.
So, when you're tempted to skip the work, explore what the consequences of that action will be. You'll have to spend longer in a career you don't like, money will be tight for longer, you'll be exhausted and frustrated by your job for longer, etc. By skipping the work, you're CHOOSING all of those negative consequences. So when getting down to work is hard, make sure you have a full understanding of what not doing the work means.
Write out your goals for the year.
Everyone talks about this, but it's shocking how few people actually take this step. So, be one of the few—be one of the winners. What are your career/business goals for 2021? How much do you want to earn? What do you want your working life to look like? And what will you have to accomplish each month to get there? (AKA, what goal for each month will put you on track to meet your yearly goals.) Really: Take 15 minutes right now and write out your goals. You can't get where you want to go if you don't know where that is.
Your turn! Will you commit to doing any of these things in the new year? If so, which ones? Let us know in the comments below!