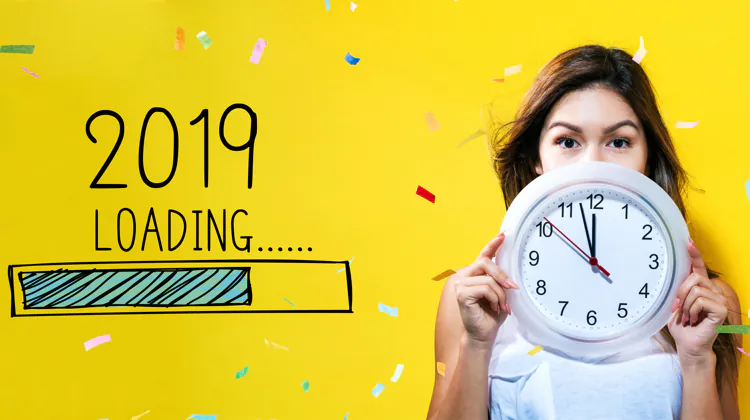 I LOVE a new year. It feels like a fresh start, an opportunity to reflect on what worked and what didn't in the previous year, and an opportunity to build on the wins and correct the losses in the new year. I LOVE a new year.
I also, as you might expect, love new year planning. Not only is it fun and inspiring, though, it's also incredibly important. After all, if you don't know where you want to go, how can you possibly expect to ever get there?
So, with that in mind, I've compiled a list of questions to help prompt some effective planning for 2019.
You don't have to answer every question, but here's a little tip: If you come up against questions that you resist answering…it's probably a sign that you need to answer them. 🙂
Okay, on to planning! Grab a pen and pad or open up a new doc and let's get to it!
What went well in 2018? What did you accomplish? List anything and everything you can think of?
What didn't go so well in 2018? What do you wish you'd done differently? What do you wish you'd focused on or worked on more?
What were your goals for 2018? Did you achieve them? Why or why not?
What are your business goals for 2019?
What do you want your business/career to look like by the end of 2019? How much do you want to make? How many hours do you want to work? How much does that mean you need to make per hour?
Why are these your goals? How will they improve your life? (Be specific! Add in some emotion!)
What are 5 things you can do to help you meet that goal this year?
What are 3 tasks you need to do each week to help you meet that goal?
What skills do you have to learn/improve to meet that goal?
How are you going to learn/improve them?
Imagine yourself as someone who's already met that goal? How do you do things differently then than you do now? How do you think differently? How do you act differently?
What do you have to do differently in 2019 than how you did it in 2018 to meet your goals?
If you had to create a theme for 2019, what would it be?
If you had to pick a word to describe how you want 2019, what would it be?
How will you feel if you meet the goals you set out for 2019?
How will your life change?
What will you say to yourself to keep yourself committed to meeting your goals when you feel distracted, discouraged, or demotivated?
Care to share any of your answers? I'd love to hear them! If you're up for it, share them in the comments below!
Last Updated on December 18, 2022