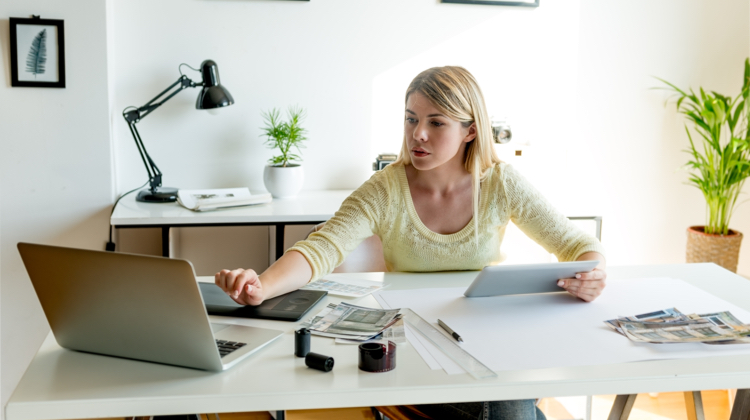 Your portfolio is one of the most crucial assets you have to land copywriting work. It proves that you know how to write copy well, even before your prospective client works with you. But what's the exact path to building your portfolio? Read on…
Today's question comes from Michael S., who asks,"I just found your site! I'm excited to start digging around, but I have a question right off the bat. I'm completely new to copywriting. How do I build a portfolio?"
As you can probably imagine, the exact "hows" of building a portfolio are a little too complicated to fit into one blog post. But what I can tell you is the general path you'll need to follow.
The Steps for Building a Copywriting Portfolio:
Learn copywriting. I'm not putting this in here to be snotty; I'm making it step number one because many people forget that it is step number one. You can't build a copywriting portfolio that proves that you know how to write copy…if you don't know how to write copy. It's not as simple as just "writing clever lines" or "being a good writer"—copywriting is an entire career and, like any other career, has a lot that needs to be learned before you can practice it.

Create spec ads.

 With a designer. Spec ads are ads (or any other kind of copy project) that you create without being commissioned to do so. They're a great way to demonstrate your copywriting prowess before you get actually get hired or pick up some clients. You absolutely do have to create them with a designer, but that's an important element of them, too: they demonstrate that you know how to collaborate with a design partner. (Plus, it's a great way to jumpstart your creative community networking.)

Find small business clients.

When you're just starting out, small business clients are, hands down, the best first clients. Scope out small businesses, especially those that you have some experience with or in. (If you worked at a bookstore in high school, start with bookstores. If you waiter-ed your way through college, start with restaurants.) Brick and mortar small businesses are especially good for you at this early stage in your learning because it's very likely you'll know more than they do about copywriting and marketing and, as such, you can provide a great deal of value.

Start working with solopreneurs.

Solopreneurs are one-person businesses that are often entirely web-based. This means that you have a whole pool of potential clients all around the world. You can help them with their websites, of course, but you can also help them with the marketing funnels that really make an impact on their businesses.

Move on to small design shops.

Often, graphic designers will move from freelancing to opening small design shops, which basically consist of themselves and one or two other designers. They offer a full range of advertising and marketing services, much like a bigger ad or marketing agency, with one key difference: They don't usually have a copywriter on staff. Which, of course, leaves a perfect opening for you to work with them on a project to project basis.
Graduate to internal and/or external agencies. Internal agencies are the design groups within a company that provide advertising and marketing services for that company. External agencies are the separate ad and/or marketing companies that other companies hire to do their advertising and marketing for them. Both of them offer a lot of benefits, a lot of opportunities for growth, and a lot of opportunities for advancement.
Now, with all of this said, bear in mind that you can make your way through this list with any goal in mind: You can plan to always stay freelance, you can opt to work as a contractor, or you can aim to get a full-time, on-staff job. It's entirely up to you.
As you look to start building your portfolio, aim to amass samples in as many different types of media and industries as possible. Now is not the time to limit yourself. Work hard to get samples in both digital and print work, and in as many of the subcategories within those (banner ads, brochures, emails, newspaper ads, web pages, etc.) as you can.
Try, too, to get samples from a variety of different industries, with a variety of different brand voices. The more you can demonstrate both your mastery and your flexibility, the easier it will be to find work.
Your turn! Where are you in this portfolio-building process? What challenges or successes are you having? Let us know in the comments below!
Last Updated on March 9, 2022 by Nicki Krawczyk