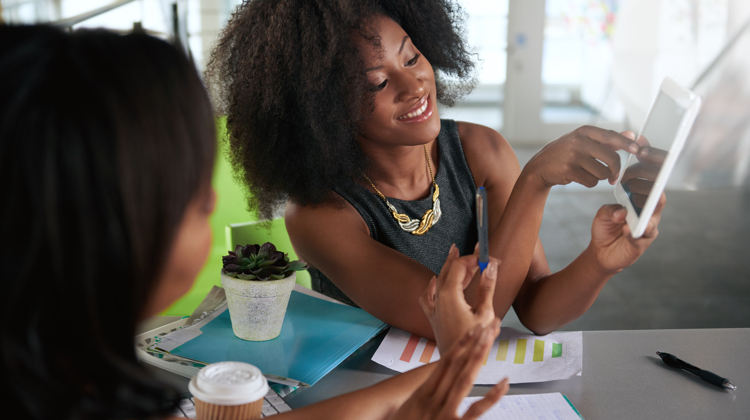 It used to be that your simply portfolio entailed a big binder with printouts of all of your best work. But welcome to 2016 kids—here's what portfolios are looking like today…
Today's question comes from Nedda H., who asks, "I've worked hard to make my samples awesome. Is there anything you can recommend to make the way I present them awesome, too?"
First, let's start with portfolio sites. The biggest trend right now is moving away from multi-page sites, in favor of single-page sites. It used to be that people were averse to scrolling, but mobile usage has increased and now we don't have much problem with it.
Single-page portfolio sites showcase all of the sections of a standard site (bio, contact me, home page, portfolio samples) in one long page. Generally, the portfolio samples increase and decrease in size when clicked on, but everything lives on the same page.
If you're interested in exploring this look for your site, you'll find great templates for WordPress, but also on drag-and-drop design sites like Squarespace, Wix and Virb.
Regarding showcasing your work on your portfolio site, historically, it's been all about the finished product. Now, hiring managers and recruiters are more interested than ever in the process that led to the final project.
For designers and copywriters alike, that means including previous iterations of projects and creative that didn't make the cut—being sure to explain why something didn't make the cut and how you got to the finished product, of course. This gives more insight into your thought process, and it can make you more valuable as a candidate.
Now, onto your physical portfolio. Notice that I didn't say "print portfolio," the way I usually do. That's because people are starting to replace their large zip portfolios with iPads and tablets. They can be just as easy to navigate, plus your interviewer can zoom in to read things better.
This can be a great option if you're primarily an interactive copywriter. If you do a lot of print work, though, you might want to stick with a classic portfolio, since unfolding and reading through your printed pieces can be a powerful tactile experience.
And, finally, the last trend we'll discuss is something I'll call "keeper portfolios." When you bring your portfolio to a job, you show it off and then take it home with you.
And I've told you that one way you can really wow an interviewer (when you really want a job) is to have your portfolio bound into a hardcover book for them to keep.
Now, if you want to impress without breaking the bank, there's a mid-point. You can have your portfolio (or highlights from it) printed up into softcover booklets. Starting in the $10-12 a pop range, you can have a few printed up without customizing each one. Shutterfly, Vistaprint, and even Walgreens can help you put together a great looking keeper portfolio in minutes
Your turn! Have you noticed any portfolio trends that we've missed? Let us know in the comments below!
*Psst: This page contains a Squarespace affiliate link and purchases you make through it will help support our company. Just so you know.
Last Updated on May 12, 2022 by Nick Olds